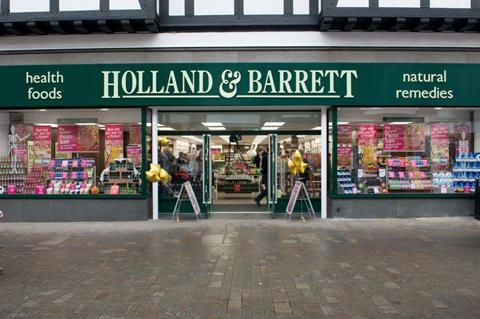 Holland & Barrett slumped to a multimillion-pound loss last year amid lower margins and exceptional costs before the business was boosted by a surge in demand during the coronavirus crisis.
Annual figures for the year ended September 2019 showed the healthy foods retailer fell to a pretax loss of £25.9m compared to an £80.1m profit the prior year.
This was mainly due to £37.7m of exceptional costs related to the impairment of previously capitalised costs for a major IT change project, the impairment of a previously capitalised new business venture and provisions for several legal disputes.
Without these exceptional costs, the company was EBITDA positive at £56.2m – nonetheless a significant drop from £138.4m the previous financial year.
Furthermore, distribution costs rose 2.3% during the year, while administrative expenses were up by £58m to £89.3m, contributing to the profitability slump.
Revenues increased 2.6% to £715.6m, a slowdown from the 6.4% turnover increase in financial 2018.
The negative results sparked a sell-off of Holland & Barrett's bonds last November, prompting lenders to reportedly urge Russian billionaire Mikhail Fridman – who acquired the chain in 2017 – to inject new funds into the retailer.
Credit rating agency Moody's also downgraded the company following the "weaker than expected" performance in 2019.
Holland & Barrett, however, reported strong levels of trading during the coronavirus pandemic with "unprecedented" online demand for its specialist dietary items and supplements over the lockdown period.
As focus on vitamins and healthy eating increased amid fears of catching the virus, the retailer focused on accelerating its online capabilities while it continued trading from nearly all its 1,660 stores, without having to furlough any staff members.