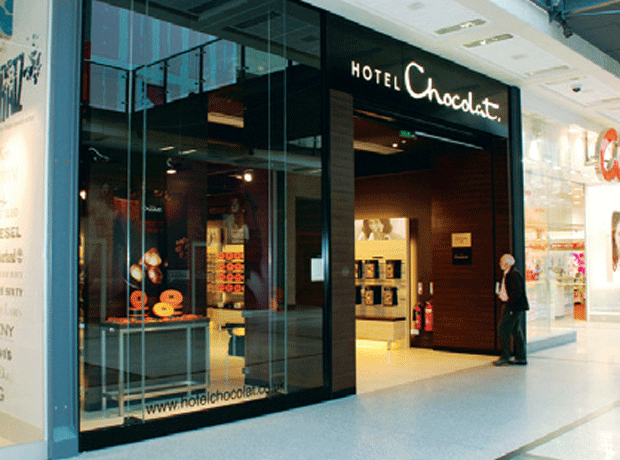 Hotel Chocolat has bounced back into the black after ditching its US trial and taking tighter hold of costs.
Pre-tax profits leapt to £3m in the year to 28 June 2015, from a £7m loss in the previous 12 months, as group sales at the brand increased 10.2% to £81.1m, the latest accounts revealed.
Strong seasonal ranges helped its UK store network register positive like-for-like growth, including double-digit rises online. Hotel Chocolate, which has 81 shops in the UK, mostly in London and the south, opened four new stores in 2014/15, adding another six since the year end.
"The group has delivered strong trading in all channels, building on the investments of the prior year, coupled with targeted cost reduction," the accounts said.
Cost of sales were broadly the same in the period at about £27m despite the rise in revenues and administrative expenses came down from £54.8m to £50.4m. A one-off loss of more than £1m on disposal of assets in the previous year was also not repeated.
It helped EBITDA climb £9.5m from a £1.6m loss to £7.9m, with operating profits of £3.5m, compared with a loss of £5.6m in 2013/14.
Hotel Chocolat abandoned its trial in the US, closing the two stores, during the period but the brand expanded in Europe with the opening of two more shops in Denmark to take its presence to three-strong in the country.
Sales in the UK made up the lion's share of the total, up from £70.2m to £76.2m, but the expansion in Scandinavia helped European revenue increase £1m to £4.5m. However, the withdrawal from the US meant sales fell from just more than £2m to £400k.
Hotel Chocolat added the performance of its new food and beverage business unit, which includes restaurants and cocoa-bar cafes, continued to improve throughout 2014/15. "It was the first full year of trading for five of the eight locations and their growth has helped deliver positive EBITDA contribution for this format," the accounts said. "We are continuing to review and develop the product ranges and see scope to further improve profitability."
Founded in 2004 by Angus Thirlwell and Peter Harris with a shop in north London, Hotel Chocolat now has outlets in London train stations and at Luton Airport, as well as its own cocoa plantation on St Lucia with a luxury hotel.