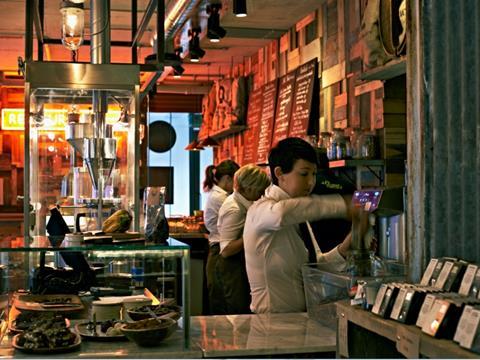 Hotel Chocolat (HOTC) sales leapt 16.2% in the 13 weeks to 25 December as customers spent more money on higher priced gifts for Christmas.
The luxury chocolatier said this morning in its first Christmas trading update as a listed company that the rise (14.6% on a constant currency basis) was driven by driven by increases in footfall and items per basket. It added that customers also chose to buy more higher-priced gift items.
The retailer opened 10 new stores during the six months ended December, and now has 90 sites in the UK. Seven of the new stores included a café offering Hot Chocolat, coffee-chocolate and light cocoa infusions drinks.
CEO Angus Thirlwell told The Grocer it had a "healthy" pipeline of future store openings and the "majority" of openings would be the café format, which "allows us to go into locations, such as market towns and London villages, that we were previously unsure about".
The digital business also registered similar momentum, launching a new website in January, including optimisation for smartphones and tablets, a bespoke 'gift creator' service and better integration of the tasting club subscription service.
CEO Angus Thirlwell told The Grocer it had already seen "early positive signs" from the relaunched website, particularly noting the potential for customers to create bespoke hampers – sales of which were already up 80% during the Christmas period before the launch of online customisation.
CEO Angus Thirlwell said: "The growing strength of the Hotel Chocolat brand has enabled us to perform well. Our seasonal ranges included many new innovations and our cafe drinks offer adds a new dimension to our experience.
"Being a UK manufacturer gave us the flexibility to maintain good stock availability right up to the end of the season."
He added that its UK manufacturing base would enable it to mitigate cost inflation in raw materials – though the price of cocoa has fallen sharply in recent months.
"We provide the added value here in the UK so we're in a strong position to mitigate the effects of the currencies and input price volatility through improvements in productivity… We're making some substantial investments to deliver smarter ways of making our products faster and to benefit from scale".
Hotel Chocolat said trading since December continued to be in line with management's expectations.
It will announce results for the six months ended 25 December 2016 on 22 February 2017.
Despite the strong Christmas trading, shares are down 1.4% to 291p.