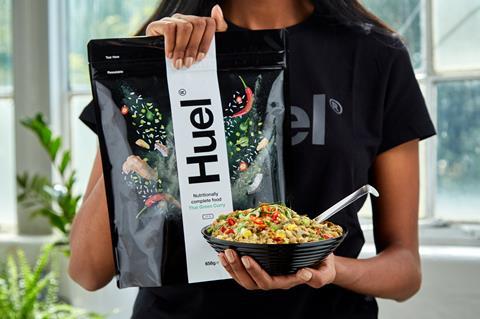 Plant-based meals brand Huel has passed the £100m mark in sales as it mulls a £1bn IPO.
Newly released accounts this week show revenues jumped 43% to £103m in the year to 31 July 2021 as demand for the brand's "nutritionally complete, sustainable food" rocketed.
Growth was driven by a 45% sales jump in its core UK market amid rising DTC sales and increased grocery listings for its ready-to-drink lines, while its US business was up 42% and rest of the world, including the EU and Japan, up 43%.
Unlike many of its DTC contemporaries, Covid was a "hindrance" to Huel as customers cooked more meals at home, said CEO James McMaster.
"People returning to the office is helping us now," he said, noting that its RTD supermarket range was focused on the impulse market and had benefited from the rebound of in-store footfall to return back to record sales levels.
"Ultimately we've got other drivers of the business and the increased focus on healthy foods, health and wellness are there whether consumers are locked down or not," McMaster said.
Underlying EBITDA increased £0.7m to £2.0m while Huel made significant investment into customer acquisition, NPD and team expansion.
The company did not split out headline profitability figures, having made a headline loss of £4.3m in the prior financial year.
McMaster said it was operating at "around break-even" despite the continued investment in international growth, staffing and marketing as it builds the brand.
"Hitting £100m in year six is rare and there are companies that do that by burning through lots of cash to get there. We are not one of those companies… we've got a sustainable gross margin."
The top-line growth, which comes on the back of 43% growth in the previous 12-month period, has led to significant investor interest in the company.
Last year it hired investment banks Goldman Sachs and JP Morgan to explore a possible float or other external investment.
Despite wider market uncertainty, McMaster said an IPO remained an option. "It would allow us to have a level of independence of the brand and the business. However, it is just one of several options – we're not set on a specific course."
He added that the company has had a number of approaches from suitors to invest in the business or acquire it outright.
"We're going to keep looking at the different options and work out the best way of accessing funds to allow us to keep growing the business with new products and internationally."
He said that trading since year end was dented by the Omicron Covid outbreak, but overall the brand is "performing well".
As with all consumer businesses, it is feeling the effects of inflation on logistics and shipping and the recent wave of inflation affecting commodities and ingredients.
However, Huel is reluctant to push these straight onto the price of its goods, with McMaster noting that despite a price increase in December, its pricing remains at £1.50 a meal for its powder products having only raised prices twice in over six years.
"Our December increase didn't fully pass on costs to customers. We're planning no changes imminently, but it's a live debate where we head next."
"£1.50 a meal is incredibly good value and we expect people who maybe haven't heard of us at the moment to start thinking about Huel as they look at how they can budget their food spend."