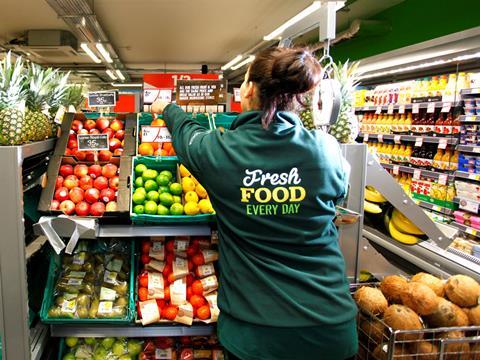 Morrisons releases interim results next week against a backdrop of 2014 share price falls, profit warnings and crumbling like-for-like sales.
Tesco's woes may be dominating the headlines right now, but the pressure that's been ratcheted up on Morrisons this year has been just as, if not more, intense. Morrisons is the worst performing of the supermarkets in terms of share price (having lost a third of its value so far this year) and its 7.1% like-for-like first-quarter sales decline is by some distance the sector's largest drop in sales.
All this makes it even more notable that, before the sector's Tesco-driven share price crash on Friday, market sentiment towards Morrisons was seemingly improving by the day.
In the five days leading up to Tesco's shock profits warning, Morrisons shares had risen by 6.9% to 186.9p – their highest level since 19 June. The rise came amid more positive market share figures from both Kantar and Nielsen and Deutsche Bank upgrading its 'sell' position, triggering real hopes that Morrisons may have finally stemmed the bleeding.
Certainly the Kantar data looked more encouraging than many had expected. In the four weeks to 17 August, Kantar recorded a 2.4% sales growth for Morrisons, the first time the supermarket had beaten the market in 29 months, driven by a turnaround in food sales.
On Friday, Nielsen had Morrisons' market share slipping 30 basis points to 11% in the 12 weeks to 16 August, but Nielsen's UK head of retail and business insight Mike Watkins saw cause for optimism: "After a difficult year, there's an indication in the last few weeks that Morrisons' sales performance is starting to improve, with new shoppers attracted by some strong promotional offers. It's early days but if the current momentum continues, Morrisons' sales growth should return to positive territory before Christmas."
Analysts at Shore Capital appeared slightly taken aback by the Kantar numbers, calling Morrions' performance "a big surprise to us, suggesting potentially strong recent trade", albeit noting the favourable year-on-year comparables.
And Deutsche analysts weighed in on Thursday, upgrading the stock (despite cutting dividend expectations by 50%) and suggesting "the status quo competitive environment could continue for the next few months, leading Morrisons to confirm its full-year profit and dividend guidance".
Vouchering
So has Morrisons' decisive action on price paid off already? Is Morrisons bouncing back from rock bottom? Not so fast, say analysts at Bernstein.
While acknowledging that any sales growth is good news, Bernstein argues that the Kantar sales increase is more reflective of aggressive and untargeted vouchering rather than winning customers over with its new price proposition.
"We count six separate vouchering campaigns during July and August," Bernstein wrote. "This will bring more customers into the stores, but these are likely the bargain hunters who will return to the discounters once the vouchers are removed."
Additionally, Bernstein notes that Morrisons' decision to extend the opening hours of 230 of its 490 stores (a 23% increase from the previous opening hours) would naturally have led to a sales boost.
Bernstein suggests that there may be a "positive tone" to the 11 September interim results, but that "the very fact that Morrisons decided to introduce so much vouchering is likely a sign that the turnaround is far from working".
In reality it is no surprise Morrisons still has plenty of work to do to drag itself back up given how hard it fell earlier this year. Morrisons is still facing the fundamental challenge of playing catch-up on convenience and online and the market conditions for the established players are not getting any easier.
But generating an uptick in sales still seems like a significant milestone given the decline afflicting Tesco. Even if Morrisons is just winning back share, at least there is some evidence that management actions have been noticed by consumers.
Things could quickly turn again once Dave Lewis enacts his own strategies at Tesco, but Morrisons investors will take heart that at least the supermarket is showing some fight.