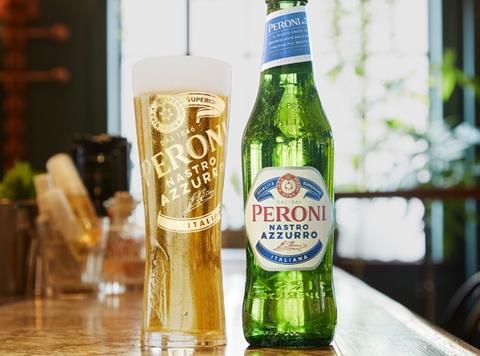 Peroni owner Asahi saw UK sales surge last year, driven by a concerted marketing push.

Newly filed accounts for the UK arm of the Japanese drinks giant show sales of £373.9m for 2018, up 11% on the prior year.

Pre-tax profits rose 17% to £54.1m from £46.3m in 2017.

The company said the growth was achieved "through continued investment in brand marketing campaigns" - including its "biggest-ever" marketing push to promote Japanese lager Asahi Super Dry, unveiled in April 2018.

Within its portfolio of beers, Asahi UK counts Italian brand Peroni, Poland's Tyskie, Zubr and Lech, Belgian blonde St Stefanus and Czech's Kozel and Pilsner Urquell.

The accounts warned that Brexit uncertainty could 'impact the ability of the company to effectively import goods from the EU'.

However, an Asahi UK spokesman told The Grocer the business was "in a strong position for success and growth across Europe" and had "clear and robust plans in place to address the current challenges".

"We continue to invest significantly in all our brands and brewing operations in the UK and w e are very confident about the future outlook for our business here," he added.

Meanwhile, Asahi-owned London-based craft brewer Meantime Brewing Co swung to a loss as changes to its business model hit sales.

It posted a pre-tax loss of £2.3m compared to profits of £237k in 2017, while sales dropped 34% to £12.4m.

During the year, the company adopted changes within its business model "so that all distribution is now operated through fellow group companies", with Meantime "no longer selling directly to the market".

"The change in the business model has had a negative impact on the selling prices of products, due to the transfer pricing policy applied and this has resulted in the gross profit margin and performance of the entity declining in comparison to the prior year," the accounts explained.

Asahi UK's spokesman said the business had already conducted a "range of activities" aimed at supporting Meantime, "reinvigorating the brand and the driving consumer awareness".

Meantime was snapped up by Asahi in April 2016 during a wider £2bn deal that saw the Japanese brewing giant buy a stable of former SABMiller European brands, including Grolsch and Peroni, following the mega-merger between previous owner SABMiller and AB InBev.