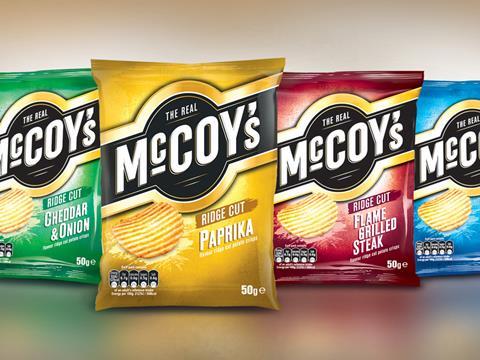 KP Snacks is in the black for the first time under the ownership of Germany's Intersnack Group as heavy investment in factories over the past three years significantly reduced costs.

Operating profits more than doubled in 2016 to £22.6m, with the company making pre-tax profits of £16.9m following three years of losses since Intersnack acquired the Hula Hoops, McCoy's and Skips maker for £500m in 2012.

Revenues at KP, which snapped up Butterkist popcorn in July, dipped by almost £1m to £313.5m in the year, but cost of sales fell by 9% (£16.8m) and there were no restructuring costs to drag down the bottom line, compared with £4.6m incurred in 2015, new accounts show.

"2016 was the first year of positive profits for KP Snacks after three years of significant investments in our manufacturing footprint and the marketing of our brands," CFO Giles Henderson said.

"This has led to market-leading branded growth driven by our major brands McCoy's, Hula Hoops, KP Nuts and Pom Bear.

"At the same time we have taken the decision to exit some lower margin business." Henderson added that branded growth had continued in 2017 but significant inflationary pressures, mainly driven by the weakening of sterling since Brexit as well as commodity price increases, is squeezing margins.

KP expected to offset the pressure through price increases and internal cost saving initiatives, the accounts said.

The group acquired market-leading popcorn brand Butterkist in July for about £60m to extend its reach in the snacking category.

"We are delighted with our recent acquisition of Butterkist and are working hard to integrate it as quickly as possible to align with our strategic objective of partnering with our customers to drive sustainable category growth," Henderson said.

KP employs more than 1,600 staff in the UK across five manufacturing sites and head office in Slough.