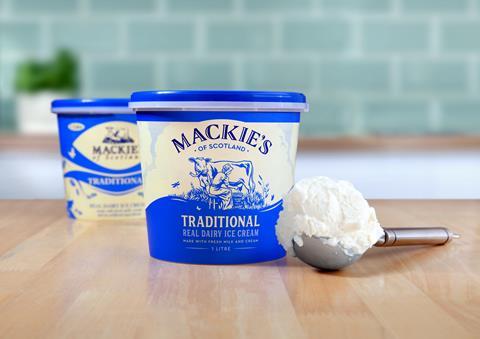 Mackie's of Scotland has held revenues at record levels despite the challenges presented by the coronavirus pandemic as shoppers treated themselves to ice cream and chocolate during lockdown.
Sales in the year ended 31 May 2020 remained at £16.7m thanks to a 1% rise with retail and wholesale customers offsetting the decline caused by the closure of the business' ice cream parlour in Aberdeen as restrictions were first announced in March.
Mackie's said matching the record 2018/19 financial year, which was fuelled by a heatwave in the summer and bumper chocolate sales after a reformulation, was "a good result".
The coronavirus pandemic initially saw sales of its ice cream slow as shoppers stocked up on store cupboard essentials, but demand returned after a few weeks, with retail sales growing in the final two months of the financial year, according to the newly filed Companies House accounts.
Exports remained at around £2m during the year, mostly generated from the Far East, but are expected to grow in 2021.
Operating profits at the Aberdeen-headquartered group, which produces ice cream, crisps and chocolate bars, soared 61% to £3.4m in 2019/20 thanks to costs falling 12% as the business benefitted from long-term contracts for ingredients.
Sales director Stuart Common said Mackie's continued to perform well throughout 2020 despite a year "fraught with obvious challenges".
"Our sector benefited as consumers were looking for indulgent, yet simple treats such as ice cream during lockdown."
The accounts revealed an uncertain start to the new 2020/21 financial year as Covid uncertainty persisted and began to hurt wholesale turnover as restaurants, cafes and catering businesses continued to be affected by lockdown restrictions. However, the retail side of the business rose 23% to make up for the shortfall as UK supermarkets continued to see record trading.
Common added: "This year we are launching a fresh, new brand identity for the first time in 30 years. Our rebrand will centre around our dairy heritage culminating in a summer campaign which will support the brand on various online channels.
"Mackie's are well on our way to achieving our ambition to become the greenest company in the UK, as we complete installation of our new £4.6m low carbon refrigeration plant and new ice cream freezing equipment. The plant will reduce our energy consumption by 80%. Already a climate positive company since 2007, the project will make us 100% self-sufficient in our farm-produced renewable energy as well as increase our capacity to meet growing demand."