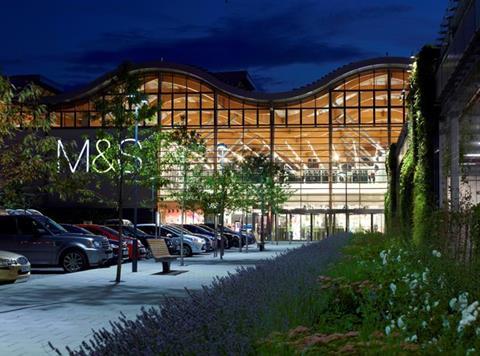 Top story
Marks and Spencer (MKS) has announced a one-for-five fully underwritten rights issue to raise about £601.3m to fund its joint venture (JV) with Ocado.
The offer will be made at 185p per new ordinary share payable in full on acceptance by no later than 11am on 12 June.
Under the JV, M&S is acquiring a 50% share of Ocado's UK retail business, which will be supported by Ocado Smart Platform technology, for an initial £562.5m and deferred payment of up to £187.5m, plus interest.
The JV would trade as Ocado.com but benefit from access to M&S's brand, products and customer database from September 2020 at the latest, following the termination of the current Waitrose sourcing agreement and migration of JV sourcing to M&S, it said.
M&S anticipated synergies for itself of at least £70m by the third full financial year following completion through increased buying scale, harmonised buying terms on branded products and improved efficiencies on new product development.
"We expect some churn in customers as the JV transitions from the previous sourcing arrangements. However, following the 'frictional' transition we plan to accelerate growth in the JV. There is a significant opportunity to reduce customer acquisition costs in the JV by marketing directly to our customer data base and the c.12 million M&S food customers who account already for around one third of online grocery spend, albeit mostly with our competitors," the retailer said.
The news came alongside the announcement of a 26.6% rise in full-year pre-tax profit from £66.8m to £84.6m on group revenue down 3% to £10.4bn.
Profit before tax and adjusted items fell 9.9% from £580.9m to £523.2m during a period during which it incurred costs of its transformation programme.
UK Food revenue fell 0.6%, with like-for-like revenue down 2.3% (1.5% adjusted for Easter) with improving underlying trend in Q4. Gross margin fell 15bps as investment in trusted value was largely offset by reduced promotional spend.
The food brand remained "very strong" and the group's strategy was to "protect the magic which is based on our unique quality, freshness, and innovation credentials whilst reshaping our store estate, infrastructure, operating systems, cost management and supply relationships, the company said.
Good progress had been made in restoring trust in M&S's value at relatively little cost to margin.
It had nearly halved dependence on the short-term promotions and complex multi-buy offers, reducing promotional participation by more than 10 percentage points as a percentage of sales by the year end, without significant loss of customers.
This enabled it to invest in everyday prices including reductions in more than 400 lines, narrowing its price differential to the lowest it has been for some years.
The reshaping of the UK store portfolio was progressing with 26 full-line stores closed and 48 new openings in the year.
The business had made "good progress" on cost savings delivering about £100m, in addition to the operating costs of stores which had closed.
Steve Row, chief executive, said: "We are deep into the first phase of our transformation programme and continue to make good progress restoring the basics and fixing many of the legacy issues we face.
"As I have said, at this stage we are judging ourselves as much by the pace of change as by the trading outcomes and change will accelerate in the year ahead.
"Whilst there are green shoots, we have not been consistent in our delivery in a number of areas of the business. M&S is changing faster than at any time in my career - substantial changes across the business to our processes, ranges and operations and this has constrained this year's performance, particularly in Clothing & Home. However, we remain on track with our transformation and are now well on the road to making M&S special again," said Rowe.
Morning update
Britvic (BVIC) has delivered "another strong performance" in the first half with pre-tax profit up from £41.8m to £45.2m on revenue up from £733.2m to £769m.
Simon Litherland, chief executive, said: "I am pleased to report that we have delivered another strong performance in the first half of the year. We have grown organic brand contribution in all our markets and increased group revenue, organic margin and adjusted earnings per share.
"As we anticipated, the soft drinks levy has benefited our portfolio, accelerating the consumer trend towards our heartland of low and no sugar brands."
"Pepsi MAX had generated more incremental retail value than any other cola variant, while the rejuvenation of the Robinsons brand continued to deliver both significant revenue and squash category value growth.
"Our transformational business capability programme is nearing completion and forms an important part of our broader commitment to building a more flexible and sustainable business model."
In the second half of the year it had a range of "exciting" marketing and innovation plans, and Litherland remained confident that Britvic would achieve full-year market expectations.
C&C Group (CCR) has reported a "transformational year" thanks to the acquisition of Matthew Clark and Bibendum which has made the business "the largest final mile distributor" to the on-trade of alcohol and other drinks in the British Isles.
Stephen Glancey, group chief executive, said 2019 was of course an exceptional year for trading and the weather impact was not something it could necessarily hope to repeat.
"There remains uncertainty ranging from the impact of geo-political events to the, as yet, unclear Brexit process. Any such event could, of course, impact upon the economic environment within our key markets and consumer confidence."
This included currency risk and the ability to trade freely across borders. Naturally, we have taken all necessary steps to plan for the worst while hoping for the most rationale outcome.
"At the heart of the business the Bulmers, Magners and Tennent's brand remain remarkably strong and relevant to today's consumers. We will continue to invest behind the long term health of these brands and innovate to ensure that we adapt to changing consumer requirements and needs."
Minimum unit pricing in Scotland demonstrated the value of strong local brands against price led competitors. The group was confident that the introduction of similar regulations in Ireland would be equally relevant to Bulmers, said Glancey.
Its super-premium and craft range had delivered "stellar" growth in volume and value. "We will continue to nurture and grow distribution for these authentic products protecting long term equity value. The Matthew Clark and Bibendum networks, of course, will help achieve this ambition," said Glancey.
C&C announced full-year net revenue for the year ended 28 February up 3.2% for the core group of €564.4m (prior to the acquisition of Matthew Calrk and Bibendum and other market services businesses acquired on 4 April 2018 and before exceptionals). Adjusted EBITDA for the core group climbed 1.4% to €101.7m.
SSP Group (SSPG) has announced that Per Utnegaard, non-executive director of the company, has been appointed as a non-executive director of Saudi Ground Services Company, a company listed on the Saudi Stock Exchange, with effect from 12 May 2019.
On the markets this morning, the FTSE 100 picked up again to climb 0.4% in early trading to 7,361.8pts.
Early risers include Stock Spirits Group (STCK), up 3.5% at 240p, PURE Circle (PURE), up 3.1% at 299p, DS Smith (SMD), up 1.7% at 326.5p and Glanbia (GLB), up 1.3% at €15.90.
Fallers so far today include Hilton Food Group, off 3.5% at 1,050p, M&S (MKS), dipped 2.5% to 264.5p, following this morning's full-year results and right issue announcement, C&C Group (CCR) fell 2.2% after reporting interims and Britvic slipped 0.9% to 929.5p after announcing its interims.
Yesterday in the City
Majestic WINE (WINE) rushed out a statement after the morning's slew or results and trading updates following media speculation about the identity of possible buyers for its shops.
It said the group continued to explore methods of releasing capital from its Majestic Retail and Commercial business to accelerate the growth of Naked Wines.
The release of capital would be explored through a range of potential options as per its previous announcement on 25 March.
It confirmed the sale of the Majestic branded retail business including its related business-to-business operations was one of the possible options under consideration.
A number of expressions of interest had been received, it said.
Majestic Wine said it continued to review all options and there remained no certainty that the sale of Majestic Retail would proceed, nor as to the terms upon which any disposal would take place.
It said a further update would be provided "in due course". The group will announce full-year results on 13 June.
The FTSE 100 had a better day closing up 0.3% at 7.328.9pts.
Stocks on the up included Majestic Wine (WINE), up 5.3% at 280p after it put out a statement to clarify media speculation about the sale of its bricks and mortar shops.
Sainsbury's (SBRY), rose 4.7% to 207.1p, Coca-Cola HBS (CCH), closed up 3.6% at 2,769p, PayPoint (PAY), climbed 3.4% to 1,054p, Greggs (GRG), 2.9% at 2,1800p and McColl's Retail Group (MCLS), up 2.3% at 85.9p.
Marks and Spencer Group (MKS), moved up 2.1% to 271.2p, ahead of its full-year results this morning.
Shares on the wane included Greencore Group (GNC) in the wake of yesterday's interims, Imperial Brands (IMB) fell 2% to 2,143.5p, Applegreen (APGN) 1.8% to 476.5p and Devro (DVO down 1.4% to 218p.