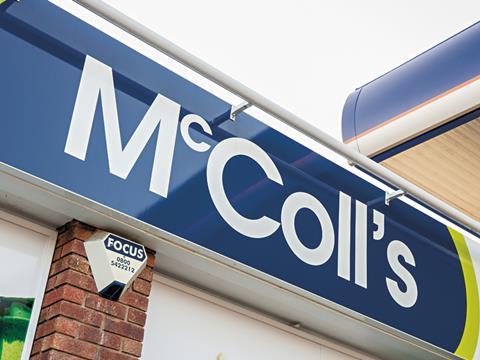 McColl's half-year pre-tax profits almost halved due to the "unprecedented disruption" in its supply chain caused by the collapse of former distributor P&H last November.

Profit before tax for the six months to 27 May fell from £4.5m in 2017 to £2.3m, as supply costs increased.

Gross margin dropped from 25.4% to 25% in the period, while adjusted EBITDA also fell, to £16m from £16.5m in 2017.

Overall sales rocketed 19.2%, driven mainly by the integration of almost 300 stores it previously bought from the Co-op. Like-for-like sales were up 2.7% during what CEO Jonathan Miller described as the "most challenging six months the company has faced".

The convenience chain announced last August it had agreed a new supply deal with Morrisons that was due to commence in January of this year. At the time P&H supplied around 700 McColl's stores, with Nisa supplying around 600 as well as a separate contract for the 300 former Co-ops.

The 700 P&H supplied stores were not due to transition into the Morrisons supply chain until the second half of this year. This had to be accelerated and Miller said the switch of 1,300 stores to Morrisons supply would be completed within the next few weeks.

"During the first half we experienced unprecedented supply chain disruption after the collapse of P&H," said Miller.

"This upheaval has inevitably impacted sales and margin performance in the 700 stores that were supplied by P&H, and has had knock-on effects on the rest of the estate."

McColl's has also been rolling out the 400-strong range of Safeway own-label products that was revived by Morrisons this year. Own-label sales in stores featuring the range are up by an average of 5%, a performance Miller said was "tremendous".