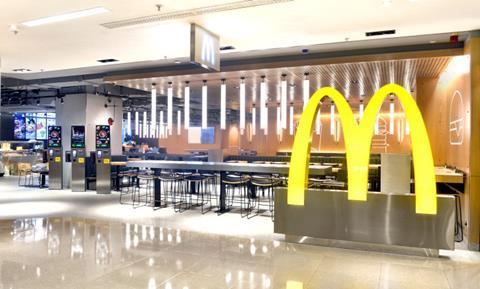 Profits have tumbled more than 50% at McDonald's in the second quarter as the peak of lockdown measures took a toll on the fast-food chain.
However, the group said its performance had improved as its outlets reopened.
Revenues declined 30% to $3.8bn (£2.9bn) in the three months to the end of June as a result of the temporary restaurant closures, limited operations and dramatic changes in consumer behaviour in the wake of the Covid-19 crisis.
Operating income at the group also fell 58% to $961.1m (£742.7m) and net income slumped 68% to $483.8m (£373.9m).
The decline in comparable sales slowed in June to just 2.3% in the US domestic market, compared with 19.2% in April, and to 18.4% in international markets, compared with 66.7% at the height of the crisis.
"Throughout our history, McDonald's has demonstrated the strategic foresight necessary to position our business for the future, CEO Chris Kempczinski said.
"Our strong drive-thru presence and the investments we've made in delivery and digital over the past few years have served us well through these uncertain times. We saw continued improvement in our results throughout the second quarter as markets reopened around the world."
In the US, 99% of restaurants have now reopened and 94% internationally.
The group added comparable sales and customer numbers remained negative in the US despite the reopening, particularly at breakfast time.
Internationally, McDonald's picked out the UK and France as markets hit particularly hard by the pandemic. The business said like-for-like sales remained in decline in almost all markets, but results were improving.
"I'm especially proud of the way the McDonald's system continues to provide a safe environment for both customers and crew, building on our 65-year legacy as a responsible and reliable choice for safe food," Kempczinski added.
"We're confident that the strong foundation we've built, combined with the unique advantages of our system, position us well to continue operating successfully during this pandemic and emerge even stronger."