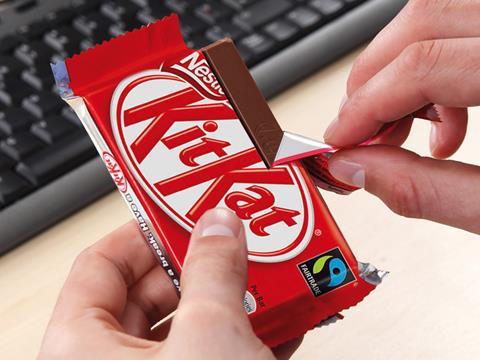 Media bites
Shares in Switzerland's Nestlé rose yesterday after better sales in the US and China helped chief executive Mark Schneider pep up the performance of the world's largest food and drinks group (Financial Times).
Drinks group Diageo will buy back an extra £2bn of its shares, after lifting revenues and profits in its last financial year despite adverse exchange rates denting its growth (Financial Times, The Times). The alcohol giant, which owns Guinness, Smirnoff and Johnnie Walker, saw revenues grow 1.7% to £18.4bn in the year to June, slightly ahead of analysts' expectations (The Telegraph, The Guardian, Bloomberg).
Britain's grocers say they have had no contact with the government about stockpiling food in anticipation of the UK crashing out of the EU in March without a withdrawal deal and have ridiculed suggestions it is their responsibility to begin the process (Financial Times). One supermarket chief said the government's position was "ridiculous" and demonstrated "complete naivety" about the way the sector worked. Ian Wright, chief executive of the Food and Drink Federation, said: "I would very much welcome a conversation with the government."
AB InBev, the world's biggest brewer, is to embark on an overhaul of its sprawling business to accelerate sales growth, as it reported an 8% rise in half-year net profits. The Budweiser, Stella Artois and Corona brewer which two years ago swallowed rival brewer SABMiller in a £79bn deal, is to slim down its geographic zones from nine to six (Financial Times, The Times).
The Financial Times Lex column writes that traders were "left feeling flat" as AB InBev's 5% fall in the North American market brought its share price down 5%.
McDonald's, the American fast food giant, is to begin serving barista-made brews in London as it adapts to the changing tastes of its customers. The $122 billion maker of the Big Mac announced its foray into upmarket coffee as it reported its 12th consecutive quarter of comparable sales growth worldwide (The Times, Daily Mail).
McDonald's on Thursday said a key sales metric grew faster than expected in the second quarter as growth in its overseas markets moderated cooling US sales. The Illinois-based company said revenues fell 11.5% to $5.35bn but topped estimates of $5.2bn (Financial Times).
British American Tobacco has played down the recent slowdown in tobacco heating products in Japan and South Korea, insisting it remained confident of hitting its target of achieving sales of at least £1 billion this year from such "reduced risk" products (The Times).
Marks & Spencers is looking towards digital progress and product innovation in order to ensure it stays relevant to consumers on the high street (Daily Mail).
United Natural Foods agreed to purchase food distributor and supermarket chain Supervalu on Thursday for $2.9bn, in a deal the Whole Foods supplier hopes will broaden its product offering (Financial Times).
French retailer Casino said net profit had surged 10.3% in the first half of the year and that it had begun reducing its large debt pile, offering tentative signs of reassurance to investors following the fall of its share price by almost a third this year (Financial Times).
Alexandre Bompard, chairman and chief executive of Carrefour, said that its business model is "under control" as the group reported better than expected growth in operating profits for the first half of the year despite continuing weakness in its home market of France (Financial Times).
Soaring demand for cloud computing helped Amazon to report its first quarterly profit above $2 billion last night (The Times).
Starbucks generated record revenue in the fiscal third quarter as it reported earnings that came in ahead of market forecasts. The Seattle-based company generated comparable sales growth of 1%, which it guided towards in June, although this is about one-third of the rate analysts had forecast, leading to a sharp share price drop at the time (Financial Times).
Compass Group reported a fall in imargins in Europe yesterday on the back of falling volumes and rising costs in the UK (The Times).