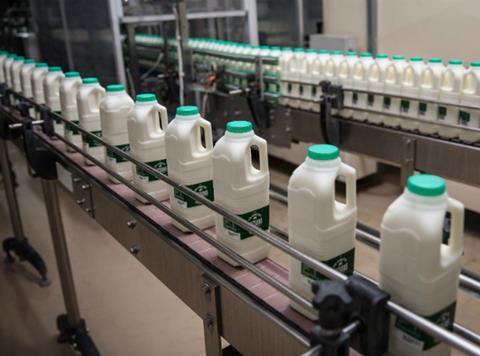 The effects of a challenging dairy market have taken their toll on liquid milk wholesaler and distributor Medina Dairy, with its latest results showing a slide into the red.
Start-up costs associated with new customer contracts also hit the operating performance of Medina Dairy, in newly filed accounts for the 78 weeks ended 27 October 2018.
Medina was awarded a contract to supply fresh milk and cream to Sainsbury's stores in the south of England in May 2016, with deliveries starting in July 2017. The contract is understood to make up about 10% of the retailer's own-label milk nationwide.
The Sainsbury's deal helped revenues jump to £244.3m in the extended 78-week period, compared with £107.7m for the 52 weeks to 29 April 2017. But despite the increase in its top line, profitability slumped as Medina felt the force of major challenges in the dairy sector, such as fluctuating commodity prices and rising energy costs.
Medina slumped to an operating loss of £500k in the 78 weeks to 27 October 2018, compared with a profit of £2.6m in the prior 12 months, and made a pre-tax loss of £1.4m.
The results come in the same week as fellow Sainsbury's milk supplier Tomlinsons Dairies collapsed into administration amid market pressures.
"During the period, the operating performance was adversely affected by start-up costs relating to new customers and a challenging and difficult marketplace," CEO Sheazad Hussain said in the accounts filed at Companies House.
"Continued investment to deliver significant improvements by investing in people, processes and technology initiatives have generated positive change to the underlying performance. The company continued its expansion into the retail trade by adding another major grocery retailer in July 2017. This significantly increased the company's turnover in line with the business strategy."
He added that the company's strategy in recent years had been focused on increasing penetration into the larger customer segment of the fresh liquid milk market in the UK, including national multiple retailers.
"Future progress will be aimed at consolidating the operational benefits from the new business," Hussain said.
Medina Holdings, which is the ultimate parent company of the group and also includes revenues from the processing side of the business, has yet to file the full group accounts to Companies House. It generated a turnover of £188m in the 52 weeks to 29 April 2017, with pre-tax profits of £1.2m.
Medina Dairy did not respond to The Grocer's request for comment.