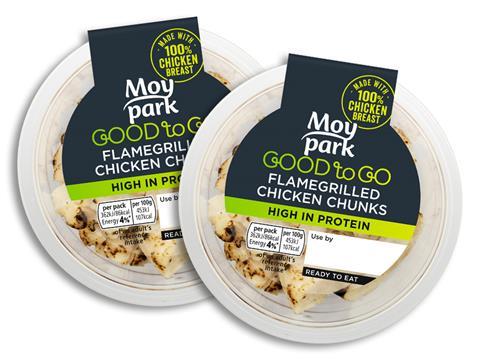 Northern Irish poultry supplier Moy Park has reported a 6.6% jump in first quarter revenues, according the newly published accounts from its parent company Brazilian meat giant JBS,
Sales at JBS Europe – the division which houses Moy Park – were up 6.6% in the first three months of 2017 to £370.4m.
This increase was mainly from a 10.2% jump in fresh poultry domestic volumes, but was partially offset by lower sales prices in the same segment.
EBITDA for the quarter was £30.2m, slightly down on the £30.6m EBITDA in the corresponding period last year.
This £0.4m EBITDA reduction was mainly related to non-recurring accounting costs. Excluding this effect, performance in relation to last year would have been positive, thanks to strong operational performance and volume growth.
EBITDA margin declined from 8.8% to 8.2%.
JBS said Moy Park management remains focused on cost control, strong customer relationships and on its culture of constant innovation providing a secure platform for future performance.
Overall, JBS reported a 14.3% fall in net revenue to R$37.6bn (US$12.2bn) due to the gain in strength of the real against the US dollar, while EBITDA rose 4.9% to R$2.1bn.
Wesley Batista, CEO of JBS, said: "We started 2017 performing well in our international business units, boosted by strong demand in the markets where we operate. Our operations in South America, on the other hand, continued to face a challenging scenario, mainly due to the strong appreciation of the real against the US dollar, which was R$3.91 in 1Q16 and R$3.14 in 1Q17, impacting the profitability of our exports from Brazil."
"Our global production platform, product diversification, continuous investments in innovation and constant focus on cost control and efficiency, allowed us to mitigate the effects from a challenging scenario in South America with good results from our international operations."