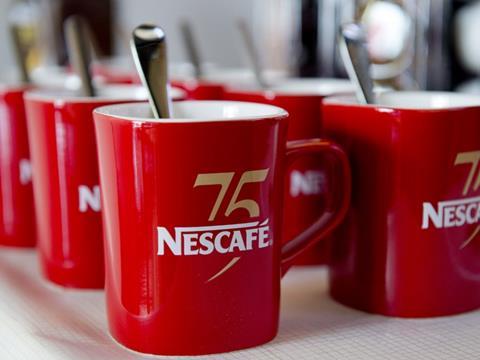 Nestlé shares dropped by almost 4% today after missing its full-year growth target and reporting a significant fall in profitability.
The Nescafe and KitKat owner delivered organic growth of 4.2% during the year – missing its guidance of 4.5% growth outlined in October and its long term target of between 5%-6% organic growth. Total sales were CHF88.8bn, but were hit by a foreign exchange impact of 7.4% because of the relative strength of the Swiss Franc.
The food giant saw organic growth of 1.9% in developed markets and 7% in emerging markets.
Overall organic growth was 5.8% in the Americas (AMS), 3.5% in Europe, Middle East and North Africa (EMENA), and 1.9% in Asia, Oceania and sub-Saharan Africa (AOA)
Net profits fell by CHF5.4bn to CHF9.1bn largely due to the impact from the 2014 disposal of part of its L'Oréal stake combined with the revaluation of its stake in cosmetics firm Galderma.
Trading operating profit was CHF13.4bn, with a margin of 15.1%, down 20 basis points on a reported basis affected by the strong Swiss Franc.
Paul Bulcke, Nestlé CEO said: "In 2015 we delivered profitable growth at the higher end of the industry in what is still a challenging environment. This profitable growth was on the back of consistent performances in previous years. Our organic growth of 4.2% was supported by increased momentum in real internal growth combined with continued margin improvement. Additionally, we grew or maintained market share in the majority of our categories and markets.
He warned of even softer pricing in 2016, stating: "We anticipate that our trading environment in 2016 will be similar to previous years with even softer pricing. As such we expect to deliver organic growth in line with 2015, with improvements in margins and underlying earnings per share in constant currencies, and capital efficiency."
Nestlé Waters saw sales of CHF7.6bn, which represented 6.7% organic growth and 6.7% real internal growth. The division report a 10.8% trading operating profit margin, which was up 110 basis points.
Growth at Nestlé Nutrition was slower, with sales of CHF10.5bn consisting of 3.1% organic growth and just 1.4% real internal growth. However, the division's operating margin was up a healthy 110bp to 22.6%.
Nespresso delivered "solid growth" in all regions, which affirming Nestlé said affirmed its strong position in European markets as it continued to build momentum in Asia and the Americas.
Overall in the EMENA region the company said it continued to "outperform the markets in its main categories". It pointed to "exceptional" performance in Western Europe driven by innovation, with performance in France, Germany and Benelux representing the regional highlights.
Nestlé shares ended the day 3.7% down to CHF71.35 as the market reacted to its forecast miss.
Bernstein analysts commented: "Overall, it was nothing better than average (at best) compared to its peers. We are not accustomed to Nestlé being "average"…but it is becoming more frequent."
Similarly, Liberum suggested future earnings downgrades were likely: "Some [problems] are one-off such as the Maggi recall and changes for prescription drug rebates and will drop out. Other factors such as sluggish global growth, low commodity prices and deflationary markets appear less transient and cap organic sales growth near-term, particularly pricing."