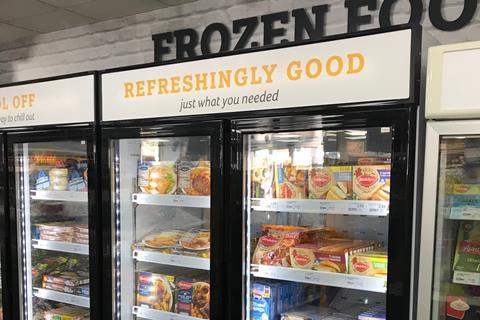 Nisa has boosted sales of its frozen goods thanks to the increased range now available to independent retailers.
Year-on-year sales for the category are up by 3%, with additional lines in Co-op own-label and branded products playing a part in the success.
In October last year, Nisa retailers were given access to more than 70 additional frozen lines as the remainder of Co-op's frozen category was released – including branded and own-brand.
The £5 freezer multibuy deal launched this month has also played a part in strengthening the category, Nisa said.
The buying group added the expansion of products such as ready meals was making the category increasingly attractive to shoppers.
Nisa's frozen ready meal sector is still dominated by branded lines, but more Co-op meals are being included.
"We will soon be extending the Co-op own-brand lines listed in the frozen ready meal section with the addition of paella, vegetable biryani, cottage pie, Kashmiri butter chicken and many more, which will add some much-needed choice and innovation to the category," said Nisa category controller David Lunn.
The improved range was also leading to Nisa partners investing in the frozen sections of their stores to showcase the increased number of products, Lunn added.
Harry Mawi, owner of Crossgates Nisa Local in Leeds, recently invested in a refit and new upright freezers.
"We sell a lot of frozen products and so we wanted to make an investment in this area," he said. "We installed two new upright freezers to replace two old upright and one chest freezer to create extra space within the frozen section, and to allow us to include more of the new Co-op own-label lines.
"The Co-op range sells itself. It looks really good on the shelf and so it is important that we have smart chillers and freezers to display it in."