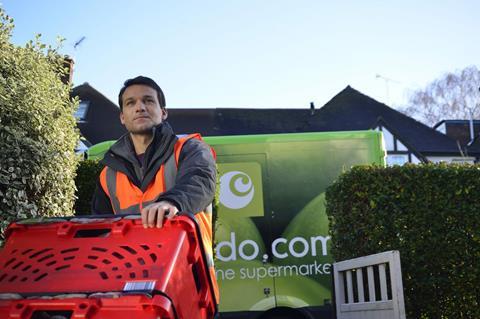 Top story
Sales jumped 11.2% at Ocado (OCDO) in the past 13 weeks, but its performance was dented by the fire at its Andover warehouse last month.
In the quarter to 13 March, sales increased to £404m, but the fire at the customer fulfilment centre (CFC) impacted revenues by 1.2%.
The fire was a "temporary setback", and a "state-of-the-art replacement facility" will be built, said CEO Tim Steiner.
The online retailer heralded continuing progress at its fourth CFC in Erith, which now processes nearly 37,000 orders a week.
Sales growth was driven by an increasing number of orders, up 11.3%, while the average order size decreased by 0.2% during the period.
An examination of the cause of the fire is taking place, but initial assessments give the retailer confidence that there are "no significant implications" for its assets or model, it said.
Ocado is increasing capacity at Erith "faster than envisaged" following the fire and an analysis of potential solutions for rebuilding the site has begun.
It will update the market in due course regarding the potential impact of this on Ocado Retail's target of 10% to 15% sales growth in 2019.
"Our first quarter was characterised by continued strong underlying growth in Ocado Retail but also the initial impact of the fire at our CFC in Andover on our headline numbers," commented Steiner.
"At the same time we all remain focused on delivering customers the very best service, quality, choice and value. Our commitment to these objectives underpinned the underlying progress we made in the quarter.
"With the joint venture signed with M&S at the end of February, Ocado Retail has never been in a stronger position to lead channel shift while constantly setting the bar for excellence in online grocery in the UK.
"We are looking forward to the future with excitement and determination."
Ocado shares rose 2.5% to 1,176p in early trading.
Morning update
Earnings surged 46% at forecourt retailer Applegreen (APGN) in 2018, after it was buoyed by its majority acquisition of Welcome Break in October.
The Irish-headquartered company saw adjusted EBITDA rise 46% to €58.1m in 2018, up from €39.8m in 2017.
Despite bad weather and the challenging economic backdrop in the UK, revenues soared 41% to €2bn.
Growth was driven by the company's rapid store expansion programme, boosted by the Welcome Break acquisition.
In 2018, Applegreen increased its store estate by 130 to 472, driven by growth in the UK where it opened 61 new sites, including 43 Welcome Break sites, as well as 53 new sites in the US.
Like-for-like food and store revenues rose 3.3%, while gross profit from the segment rose 3.1% during the year.
Applegreen's primary focus for the year would be the continued integration of Welcome Break and reducing leverage, but it will "evaluate future opportunities to expand", it said.
"We are delighted to announce another strong set of results for Applegreen," commented CEO Bob Etchingham.
"The performance was driven by ongoing expansion of our estate, positive like-for-like growth despite weather-related disruption and strong fuel margin performance, particularly in the fourth quarter of the year.
"The acquisition of the second largest UK motorway service area operator, Welcome Break, is transformational for our business. It gives us an excellent platform to develop our service area business in the UK market.
"Trading conditions remain generally good despite uncertainty caused by macro events. We anticipate another year of robust growth for the business."
The FTSE 100 has continued its upwards tick from the past few days, jumping another 0.3% to 7,324pts this morning as it has been aided by weakness in the pound.
This morning's early risers include McColl's (MCLS), up 2.3% to 77.8p, Paypoint (PAY), up 1.8% to 897p, and Tate & Lyle (TATE), up 1.3% to 705.2p.
The early fallers include Greencore (GNC), down 3.2% to 195p, Stock Spirit Group (STCK), down 3.1% to 221.5p, and Bakkavor (BAKK), down 1.3% to 124.4p.
Yesterday in the City
The FTSE 100 surged throughout the day, jumping 1% to 7,299pts, after positivity in the US over trade talks with China.
Supermarket Income REIT dipped 0.3% to 101.7p after its investment management business Atrato Capital announced the appointment of former Sainsbury's chief Justin King.
Sainsbury's (SBRY) jumped 5% to 234.9p amid reports the retailer would provide a more specific commitment to cut prices as part of its response to the CMA regarding its planned merger with Asda.
Other big risers from yesterday's trading included Greene King (GNK), up 2.9% to 671.2p, Hotel Chocolat (HOTC), up 2.9% to 350p and Stock Spirit Group (STCK), up 2.9% to 229p.
One of the day's biggest fallers was own-label chilled food manufacturer Bakkavor, which slipped 3.1% to 126p, as it continued a steady decline from the past month.
Other fallers included Glanbia (GLB), down 2.8% to 18p, Total Produce (TOT), down 2.2% to 145p and Majestic (WINE), down 1.8% to 279.5p.