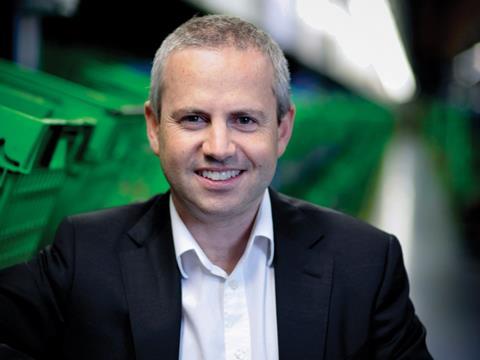 Ocado (OCDO) beat consensus sales expectations in its third quarter, growing retail sales by 15.3% and beating analysts' expectations of a 15% rise.
Retail sales grew to £218.5m in the 12 weeks to 9 August, a slight slowdown in growth from the 15.7% revenue increase in the first half of the year.
Including its agreement with Morrisons, total sales were 17.3% up to £231.9m.
Average orders per week were up by 16.6% to 163,000 – again a slight decline from the 18.6% growth in the first half.
Average order size fell by 1.1% to £11.64, with the decline drive by wider grocery market deflation as volumes remained largely unchanged. The 1.1% order size fall eased from the 2.2% fall seen in the first half, suggesting the impact of deflation is beginning to ease.
Tim Steiner, Ocado's Chief Executive Officer, said: "We are pleased with the continued steady growth of our business in a retail environment that remains tough.
"We believe our commitment to improving what we offer to customers through innovation and our proprietary IP will support further growth. Notwithstanding the competitive nature of the marketplace, we expect to continue growing slightly ahead of the online grocery market."
There was no mention of the international agreement that Ocado said it hoped to sign during the 2015 financial year.
Chief financial officer Duncan Tatton-Brown said there was no change in the expected timescale of Ocado rolling out its model internationally and the company still expected to secure its first agreement before the end of its 2015 financial year.
Analysts at Goldman Sachs, which has a buy recommendation on the stock, said this morning: "Over a period in which the UK grocery market grew 0.9%, Ocado's 15.3% retail sales growth continues to be materially higher than peers, which we believe will allow Ocado to continue to improve key operating metrics as competitors see theirs worsen."
While Numis added: "We continue to believe that Ocado is uniquely positioned to leverage its market-leading IP to support Ocado Retail and develop partnerships with global grocery retailers looking for the best online grocery fulfilment solution."
Ocado's shares were 0.4% down my late morning at 314p, having peaked at 331.4p soon after the market opened. The shares are currently 13.1% down over the past month and over 33% down since hitting an annual high of 478.5p in July.
The group had cash and cash equivalents of £51.8m at the close of the period and external borrowings of £44.4m.
Ocado had cash and cash equivalents of £70.4m at the end of the first half, but external borrowings rose from the first half figure of £45.5m.
Ocado six month share price
Share Price:
314.60p Change Today: -1.30p Market Cap: £1,964.81m