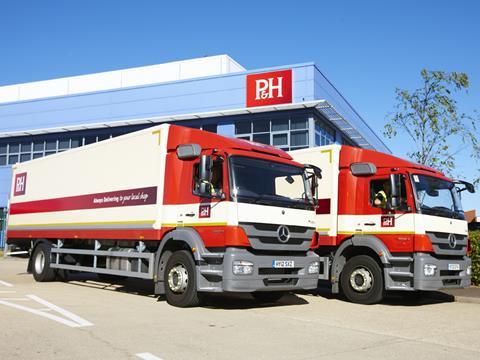 Palmer & Harvey has reported a 6% increase in sales to £4,466m for the year to 4 April 2015 with a 19% rise in EBITDA to £35m.
The delivered wholesaler said that the teething problems last summer that beset its new eight-year contract to distribute to Costcutter stores had led to net exceptional items in the financial year of £16.6m which had resulted in a pre-tax loss of £8.5m.
P&H said this had come about due to a later than planned start to the Costcutter store migration which resulted in a significantly reduced roll-out timetable and late changes to the product range.
In order to address the significant unplanned operational difficulties at the beginning of the contract, P&H said that it, along with Costcutter, invested heavily in unplanned net start-up costs amounting to £15.2m in order to stabilise the service as quickly as possible.
Group finance director Jon Moxon confirmed that the contract was now working well and is not envisaging any similar exceptional costs next year.
"We are expecting a good strong financial performance this year," he said. "We are just coming out of the summer and we have had fantastic service this year and the challenges of last summer, we are pleased to say, are now a distant memory for our customers. In fact our service levels are now operating above the level prior to the contract."
The Costcutter contract has added £379.6m of sales for P&H and the company also said the BuyCo it established with Costcutter had enabled it to target improved pricing and inbound service from suppliers allowing it to offer better prices to customers.
"The suppliers understood the strategy and the story and supported us very well," said P&H managing director, wholesale Martyn Ward. "They continue to support us as long as we are continuing to grow their business for them and implement their activity to the best of our ability and better than our competitors."
"If I said every negotiation had been easy. I'd be lying through my teeth. We had some very tough negotiations but we've come to good resolutions with all our suppliers. They are happy, we're happy and it's now about driving the benefit for all parties, ourselves, our retail customers and our suppliers."
This year the wholesaler has also invested in its infrastructure, opening a national distribution centre in Leeds for slow moving goods and a new chilled and frozen site in Avonmouth. It has also more than doubled the size of its company-owned retail business. It now has 50 Central stores and expects to open a further 25 this year. It is also looking to grow its franchise proposition for the Central brand. It currently operates 10 franchise stores. The company-owned retail division now has a turnover of £37m up from £17m last year.
P&H is now supplying frozen products to One Stop stores as well as chilled and has also retained its contract to supply 41 Moto service stations and is now supplying stamps to Tesco stores.
Former Sainsbury's executive Helen Buck is set to join the company in November as chief operating officer.