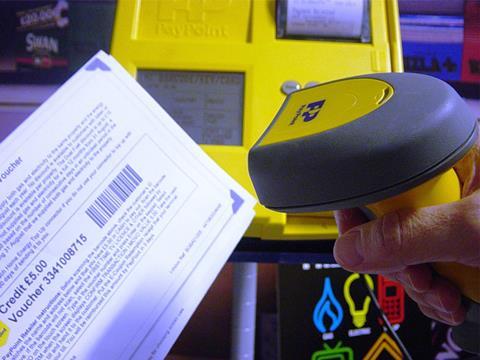 PayPoint has posted third-quarter year-on-year net revenues up 1.8% to £35m and total revenue down 3% to £58.1m.
The payment technologies company, whose retail network includes, Co-op, Spar, McColls, Asda and thousands of independents, sold its online payment businesses to business services firm Capita for £14m during the period, which CEO Dominic Taylor said had strengthened its balance sheet.
The company reported strong growth in retail services of 22.7% and mobile and online of 9.6%, offset by declines in top-ups of 13.7% and bill and general of 2.4%.
PayPoint said transactions processed during the period were 3.9% higher at 225.4m. But it blamed an adverse VAT ruling from HMRC and "unseasonably warm weather" for slowing the improvement in its results.
Retail services transactions, comprising ATMs, debit/credit cards, parcels, money transfer and SIM card sales climbed 14.3% in the UK and Ireland.
UK and Irish bill and general transactions fell 8.1%. Mobile top-ups in the UK and Ireland continued to decrease as the prepaid mobile sector declined. An increase in other top-ups partially offset this.
Paypoint said it increased its UK and Irish retail sites as of 31 December by 113 since the half-year end to 29,044.
Taylor added: "We have continued to make progress across the businesses in the third quarter. Retail services have grown strongly, our new terminal is in pilot in the UK and we have made good progress in developing our core EPoS software.
"However, our progress has been partially offset by the unseasonably warm weather and its impact on energy consumption, an extension of the additional costs in Collect+ to facilitate the shareholder discussion and a delay in the sale of our mobile payments business.
"The restructuring of PayPoint continues apace. We aim to resolve the Collect+ joint venture arrangements and complete the sale of our mobile payments business by the time we report our full year results in May, so we can focus all our effort on the development of our retail networks."
Numis Securities considered the update "poor". The broker said it expected small earnings downgrades of 0.5% to full-year 2016 figures. However, it said it believed the core business was "a cash cow".