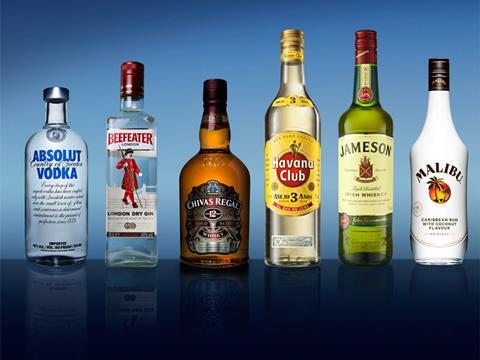 Pernod Ricard says it expects profits to grow between 1% and 3% this financial year, after announcing its first half results.
Global sales for the group were up 1% to €4.62bn in the period from July to December 2014. Pernod Ricard said that when the effect on shipments of a later Chinese New Year (CNY) was taken into account, sales were up 2%. Chinese New Year is on 19 February this year, 19 days later than in 2014. Profits for the half were flat at €1.36bn, or up 2% when adjusted for CNY.
The company's best performing region was Asia-Rest of World (including Africa), which saw sales up 3% when adjusted for CNY. This compares to a 4% sales drop in H1 2013/14. The Americas region saw growth of 2%, thanks in part to strong sales in Brazil, while sales in Europe were flat, with slowdown in Eastern Europe and Germany countering a strong showing in Spain and the UK.
Pernod Ricard's Top 14 global brands achieved 2% volume growth, but struggling prices meant that value sales were flat, while the group's Priority Premium Wines declines 2%, due to falling sales of Jacob's Creek.
"Our H1 results are solid and in line with the guidance given in October," said chairman and CEO Alexandre Ricard. "Our Sales are gradually improving despite an environment that remains challenging. Heartened by this encouraging first semester, we confirm our full year guidance of growth in profit from recurring operations between 1% and 3%. I am confident in the strength of our portfolio of premium brands and of our global network that support our three strategic growth pillars: premiumisation, expansion and innovation."