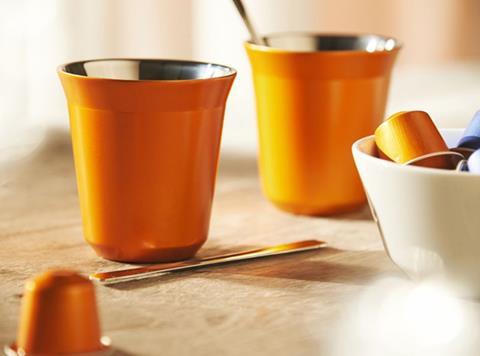 Surging growth in pet food and Nespresso helped Nestlé's UK sales rise last year, despite a slump in the bottled water market.
Group revenues for Nestlé UK rose 2.7% in 2019 to £1.68bn, show newly filed accounts at Companies House.
Its Nespresso coffee pod arm continued to be a major growth driver, with UK sales up 9.2% to £242.3m on top of an 11.6% increase last year.
Its petfood arm, Nestlé Purina Petcare, also enjoyed sales growth, up 6.3% to £554.7m.
However, its Nestlé Waters UK arm saw a 10.4% drop in annual sales due to the decline of the wider plain water category amid a weak summer season and increased competitiveness in the carbonated soft drinks market.
Nestlé UK's bottom line showed marked improvement in 2019, having suffered the previous year due to the weak pound's impact on purchases from the eurozone.
Operating profits were back up more than 135%, rising from £58.8m to £138.8m, as cost of sales reduced by 3.5% despite the overall sales growth.
However, lower income from shares in group companies and a £57.5m impairment on investment in subsidiary companies meant headline profit before tax rose a more modest 11.2% to £108.6m.
The accounts state that Nestlé in the UK has continued to "maintain a strong position and performance financially" so far in 2020 despite the impact of the coronavirus.
Nestlé's UK figures include sales from its core drinks, confectionery and food businesses, as well as its three subsidiaries - Purina, Waters and Nespresso - that also report their accounts individually.
Globally, Nestlé posted stronger-than-expected organic growth of 2.8% for the first half of 2020. Its petcare, dairy, coffee, vegetarian and plant-based brands all recorded strong rises in the first six months of the year, driven by spikes in demand amid the coronavirus lockdowns.