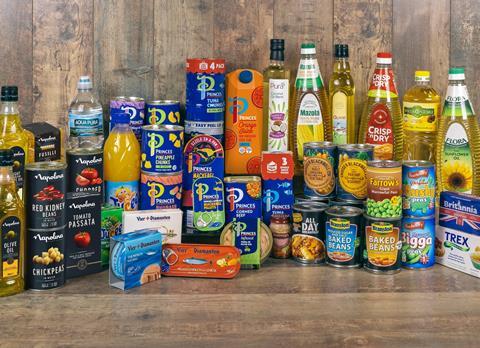 Tinned food giant Princes has benefited from a spike in demand during the Covid period to grow profits and sales in its 2020/21 financial year.
The producer of tinned produce, soups and cooking oils saw sales rise 1.7% to £1.56bn in the year to 31 March 2021, from £1.53bn in the previous financial period.
The company said this uptick in sales had been primarily driven by "the effect of Covid-19 on demand" during the year – though the previous financial year had also seen significant stockpiling in the final weeks of the year.
Mitsubishi-owned Princes said it had benefited from consumers shifting to at-home consumption, which increased overall demand for its products, despite a "significant" drop in some product lines focused on foodservice and catering.
Meanwhile, profits before tax (excluding restructuring costs and impairments) rose to £46.2m from £30.4m, and overall operating profits rose to £47.5m from £33.2m.
"While spikes in demand during Covid-19 have naturally impacted results as we worked to feed the nation during lockdown, we also experienced significant increases in costs in our business to ensure continuity of supply and the safety of our colleagues," said MD Cameron Mackintosh.
"It is also clear that the strategic plan we initiated four years ago to drive growth and respond to challenging market conditions is proving successful. This approach, as well as shifts in eating and shopping habits, are continuing to stimulate reappraisal of ambient food, as consumers take a fresh look at the convenience, quality and affordability of the category.
He said over the past year the group had "concluded several landmark development programmes, accelerated our innovation plans to better meet consumer and customer needs".
Strategic progress included investing over £150m in its UK manufacturing sites, exiting the waters market with the sale of its Eden Valley bottled water site and Aqua Pura brand, and reducing its carbon emissions and Indian Ocean yellowfin tuna sourcing.
"Today, we are an innovative, consumer-first business which is evolving and adapting to rapid changes across the food and drink industry, and working to support the families we serve," Mackintosh said.
"Looking ahead to 2022, we will continue to drive progress to realise our strategic ambitions and growth plans, while striving to achieve our vision of proudly helping families to eat well, without costing the Earth."