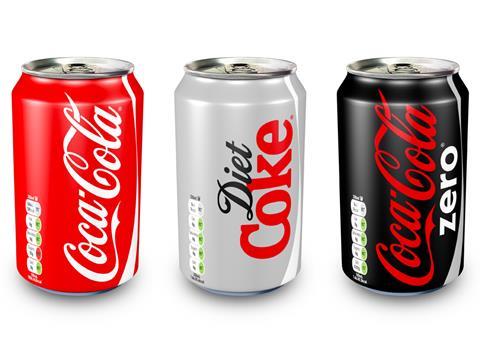 Top story
Profits went flat at Coca-Cola HBC as the world went into lockdown, but the fizzy drink bottler reported "encouraging" signs as markets reopened.
Revenues in the first half fell by 14.7% to €2.8bn (£2.5bn) as the shock to the out-of-home channel caused by the coronavirus pandemic led to a 9.2% decline in volumes.
The top line improved as restrictions across the 28 countries and three continents where the business operates eased. In July, sales decreased just 5%, compared with the 36% drop in April at the height of the crisis.
The group said the hit to revenues in each country was heavily dependent on the severity of lockdowns, timing and pace of easing, and the relative exposure to the out-of-home channel.
Established countries, such as Italy and Ireland, which went into lockdown first and generate a larger proportion of business from hospitality, experienced a 21.1% decline in the six months to 26 June. Developing nations, such as Poland and Czech Republic, fell by 16.4% as several of the larger countries eased restrictions faster and emerging countries decline 8.4%, supported by growth in Nigeria and low exposure to the out-of-home channel in Russia.
Operating profits for the half tumbled 35.8% to €208.8m (£188.4m) and net profits were down 36.4% €124m (£111.9m).
Strong cost control delivered €61m of €100m planned savings for the year during the half and input costs also fell by 8.1% thanks to cost management and hedging.
"I am proud of our teams' positive attitude and agility during this fast-changing time," CEO Zoran Bogdanovic said.
"This crucial part of our culture has allowed us to maintain full business continuity in unprecedented conditions, while keeping our people safe and customers and communities served.
"Our fast, decisive actions ensured that our supply chain was uninterrupted, and our profitability protected during a very challenging Q2. Our strong performance on market share clearly demonstrates the power of our portfolio of brands and execution in the market; we will capitalise on this advantage now that we are seeing early signs of recovery.
"Coca-Cola HBC is a resilient business, well-positioned to adapt as markets reopen, emerge even stronger and win in the new normal."
In the half, sparkling volumes fell by 4.5%, with a better performance from the low and no-sugar variants, which decline 3.4%. Trademark Coke volumes were down 3.9%, while Fanta fell 1.4% and Sprite by 7.3%.
Water volumes dropped by 23.7% as early stockpiling failed to offset the exposure to the out-of-home channel.
Energy volumes grew by 6.7%, with growth in the first half in all three segments and a particularly good performance from Monster.
Shares in the group jumped 4.5% as markets opened this morning to 2,129p.
Morning update
Netherlands-headquartered retail group Ahold Delhaize has reported a strong second quarter as the Covid-19 crisis saw consumer demand surge in store and online.
Revenues at the group rose 17.1% to €19.1bn (£17.2bn), with growth in the US and Europe, excluding fuel, up 20.6% and 10.2% respectively.
Online sales rocketed 78% in the quarter as shoppers stayed at home rather than head out to the supermarkets as the pandemic hit. Ahold Delhaize said it would reach its €7bn online sales target in 2020, one year ahead of plan.
Operating profits leapt 78% to €260m in the three months the end of June.
Costs related to Covid-19 totaled €330m in the first half of 2020 and about €260m in the second quarter, including safety measures and staff bonuses. The business also hired 45,000 extra staff in the second quarter globally to cover absences and cope with the extra demand.
CEO Frans Muller said Covid-19 had presented adversity across society and business.
"The engagement and strong execution of our teams have translated this unprecedented demand in both the US and Europe, due to Covid-19, into outstanding results.
"Our Q2 performance illustrates the challenge all companies are facing in predicting results in the highly uncertain environment created by COVID-19. Despite the high levels of market uncertainty, we are accelerating investments to support our increasing digital and omnichannel ambitions and raising our 2020 outlook due to our strong performance in the first half of the year.
"We continue to adapt to the changes we are seeing in consumer shopping patterns and behaviour. One of these changes is the increased demand for our online offerings, which, combined with investments to increase capacity, has resulted in net consumer online sales growth of 127% in the US, at constant exchange rates, and 64% in Europe. Our increased investments in digital and omnichannel capabilities should lead to continued wallet share gains. As a result, we now expect over 55% growth in global net consumer online sales in 2020. This puts us on track to reach our goal of doubling global net consumer online sales from €3.5bn in 2018 to €7bn in 2020, one year earlier than we outlined at our November 2018 Capital Markets Day."
Shares in the retail jumped rose 4.7% this morning to €26.16.
British American Tobacco (BAT) has appointed a new president for its US business Reynolds American.
Ricardo Oberlander will step down as president of Reynolds American and from the management board on 31 August 2020 and will leave the group at the end of the year.
Guy Meldrum, currently regional director of Asia-Pacific and Middle East, will take over the role on 1 September.
Michael Dijanosic, currently area director of the Asia-Pacific Area, will be appointed regional director of Asia-Pacific and Middle East to replace Meldrum.
Oberlander has been with the group for almost three decades, more than seven years of which as a member of the management board, firstly as regional director of the Americas and then latterly leading Reynolds American. BAT said he was stepping down to "pursue other opportunities".
BAT chief executive Jack Bowles said: "I am grateful for the drive and leadership that Ricardo has brought to the group throughout his career and for leaving the Reynolds American business in such robust shape.
"I would like to thank Ricardo for his significant contribution over the last three decades, including over seven years as a member of the management board. We all wish him the very best for the future.
"Guy's extensive experience with BAT over the last 26 years, including a number of senior roles in Australasia, the North Asia Area, Russia and his recent experience in leading the Asia-Pacific and Middle East Region, will serve him well to further drive the transformation of Reynolds American.
"I am delighted to welcome Michael, who has over two decades of experience with the group, to the management board. He has held a number of senior leadership roles in Asia Pacific across different markets and has been a member of the regional leadership team since 2012. This in-depth knowledge of the region positions him extremely well to succeed Guy."
BAT shares ticked up almost 1% this morning to 2,574p.
On the markets this morning, the FTSE 100 opened strongly, up 1.1% to 6,101.31pts.
In addition to Coca-Cola HBC, Ahold Delhaize and BAT, risers include AG Barr, up 1.2% to 426.5p, ABF, up 1.7% to 1,839.9p.
Early fallers include Diageo, which continued to fall 2.5% to 2,651p, Greggs, down 2% to 1,273p, and Bakkavor, down 3.2% to 64p.
Yesterday in the City
The FTSE 100 maintained Monday's gains, closing up 0.1% to 6,036p.
Diageo, however, was a notable faller, dropping 5.6% back to 2,721p after its annual profits almost halved amid £1.3bn of coronavirus driven writedowns.
Other fallers included Nichols, down 3.7% to 1,180p, Kerry Group, down 2.1% to €107.00, Pets at Home, down 1.7% to 303p and Reckitt Benckiser, down 1.3% to 7,804p.
Food to go and travel retail specialists led the day's risers, with Greggs up 8.9% to 1,299p, Bakkavor up 6.6% to 66.1p, WH Smith up 5% to 985p and Greencore, up 2.3% to 127.3p.
The supermarkets had a good day too, with Morrisons up 2% to 191.9p, Sainsbury's up 1.9% to 190.8p and Tesco up 1.5% to 222.4p.