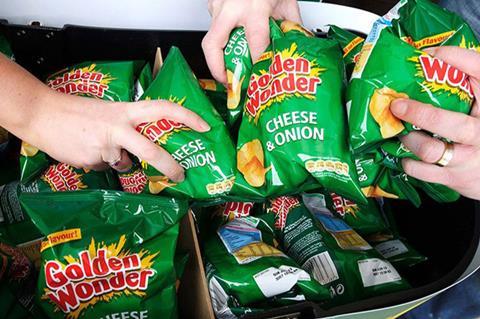 Northern Irish crisp giant Tayto saw profits slide despite a raft of new acquisitions boosting sales.
The Golden Wonder owner saw pre-tax profits slide 62% to £705k for the year ended 30 June 2018, from £1.9m, on the back of increased distribution and administration costs.
Profits dropped significantly for the second year running, following a 41% decline in 2017 from £3.1m in 2016.
The slump in profitability came despite a 6.5% jump in sales to £185m, after the supplier was buoyed by deals to buy Pop Notch and The Real Pork Crackling Company towards the end of the period.
Tayto continued its acquisition drive in 2019, buying free-from snack startup Bite UK for an undisclosed sum in February.
During the year Tayto also increased its investment in coconut snack brand Ape, before selling its share in the business "at a profit" as part of Ape's acquisition by Rebel Kitchen founder Ben Arbib in November 2018.
Profits fell on the back of rising distribution costs, up 3.2% to £18.6m, as well as soaring administration fees, which rose 11.8% to £10.9m for the year.
Tayto suffered amid "challenging" retail conditions, it said in the accounts, while also preparing for the potential impact of delays relating to a no deal Brexit.
"The market remains competitive and, as ever, it has proved challenging to pass on these inflationary costs," commented executive chairman, Stephen Hutchinson.
"The crisps and snacks market continues to be challenging due to significant competition in the retail sector and continued pressure on consumers, yet we are confident that going forward our key brands Golden Wonder, Tayto, REAL and Mr Porky will continue to grow due to our strong relationships with our retail customers.
"We have continued with our ongoing, long-term programme of expansion, acquisition and investment. Each phase of this has been carefully planned, while we have also been flexible enough to act quickly when appropriate opportunities arise."