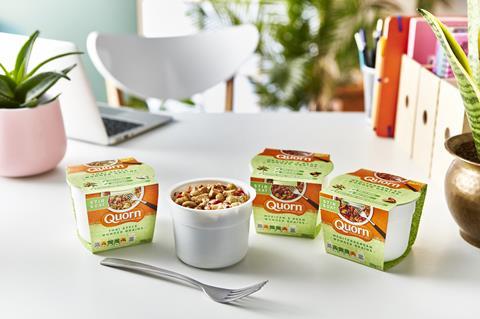 Veggie foods specialist Quorn grew sales by 7% last year, though profits fell back as it continues to invest in expansion of its meat-free ranges.
The sales growth in the year to 30 June 2018 is a slowdown on the 16.2% sales growth posted by the brand's owner Marlow Foods Ltd in the previous financial year.
In 2017/18 Quorn grew revenues from £176.1m to £204.6m, suggesting its most recent financial year saw revenues of around £220m.
The group, which was bought in £550m deal by Philippine-based food giant Monde Nissin in October 2015, said growth was held back by a factory fire in June and the need to add additional manufacturing capacity "to meet growing demand".
Investment in manufacturing and NPD meant pre-tax profits fell back from £32m to £27m during the financial year.
Quorn said it "continued to ramp up its research and development capability" during the year as well as investing £5m in new development products to create its "strongest ever innovation pipeline".
"Today's announcement marks a period of sustained growth from 2016-2018, which saw demand grow by 35%," the company stated. "As consumers around the world continue to embrace more plant-based protein in their diets, future demand is expected to grow sharply."
CEO Kevin Brennan commented: "Today's results reflect the strong momentum we've seen since 2016. While it's important that Quorn continues to grow, it's vital that we do so in a sustainable way.
"As we continue to make progress, it's clear that now is the time to invest heavily in research and development to ensure we lead the world in delivering great solutions to the climate issues associated with meat production."
Quorn launched a number of vegan products in 2018, including the launch of the vegan smoky ham free and vegan chicken free sandwich slices –the two biggest new vegan products in UK grocery in 2018 - followed by its widely hailed vegan sausage roll launch in partnership with Greggs.
So far in 2019 Quorn has launched its new Fishless Fillets range, which have "exceeding sales expectations", while its range of ten cupboard friendly convenience foods are set to hit shelves in June.
Since its acquisition the group has also looked to ramp up its international scale and is looking to grow US sales by 45% by the end of 2019 after signing partnerships with leading grocery chains such as Kroger.
Brennan added: "In a market where $2.3bn of chicken nuggets are sold every year, the fact that Quorn nuggets are the fastest selling product within the meat-free category in Kroger is testament to the superiority of our products. It highlights the great opportunity we have in the US market."
Brennan was named in the number one position in The Grocer's new plant-based power list last week.