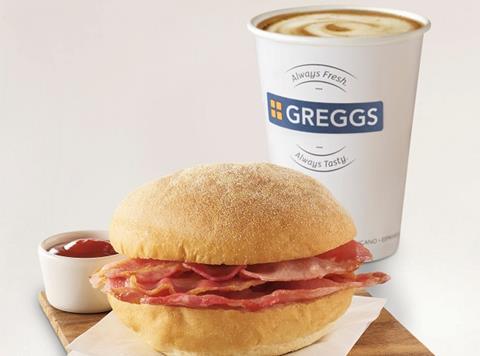 Shares in Greggs shot up in December as the high-street favourite sprang an unexpected trading update on the City, upping its profit expectations for the year on the back of the popularity of its new coffee and healthy sandwich offering.
With its stock again soaring yesterday (by more than 9% to 820.5p) following a strong Christmas, is there any room for further surprises from the bakery chain in 2015?
Like-for-like sales at Greggs increased by 8.2% for the five weeks to 3 January, compared with a rise of 3.1% a year ago, as its food-on-the-go focused product range struck a chord with customers. The company got consistently stronger as the year progressed, with fourth quarter sales up 6% despite going up against hefty comparators from 12 months earlier.
CEO Roger Whiteside says in a conference call that profits for 2014 would be at record levels (analysts have upgraded their forecasts to about £58m) and the total like-for-like sales growth of 4.5% signalled the business' best year since 2007.
Broker Shore Capital has also revised it FY2015 forecasts by 12% to £61.9m, reflecting the strong trading momentum entering the new year, the deflationary input cost and energy environment and management's robust comments on the consumer.
Whiteside says the retailer was going into the new year with the tail wind behind it and the outlook in general market conditions looking "really encouraging". "We had very low input commodity deflation last year and looking forward for the first six months of 2015 that does not look like it is going away," he adds. "That will be helpful to us in maintaining our really sharp pricing and good value that we're offering."
Low oil prices were also leaving more pounds in consumers' pockets at the end of the month, which would previously have been spent at the petrol pumps, giving Whiteside confidence he can tempt customers to spend some of that increased disposal income on a £2 coffee and hot savoury snack deal. The latest deal in shops, launched at the start of the year, the offering had already got off to a "flying start", he says.
Edison Investment Research analyst Sohil Chotai says: "The company's strategy of refurbishing stores, improving the menu and focusing on costs has reaped rewards. It has also been aided by a benign macroeconomic environment with lower input costs and higher disposal incomes which we think will continue to be a tailwind in 2015."
Darren Shirley at ShoreCap thought performance also "undoubtedly" benefited from greater self-confidence across the business, which was evident in the stronger flow of new product development, innovation and deal activity.
Greggs' coffee offering was relaunched in February with sales growing throughout the year, peaking at just more than £1m in the week before Christmas. Whiteside adds that including the drink in all meal deals was one of the ways the company drove coffee sales.
The other big success story of 2014 was sandwiches, which were also relaunched in the summer to become the category which contributed most in sterling terms to the growth last year. The sub-brand known as 'balanced choice' – with products of fewer than 400 calories – had sales of £55m for the year with Whiteside promising more growth to come ("the growth momentum we have there is very encouraging and there is more to do").
Other innovations including introducing a soup range over the winter and a new steak and cheese roll, which proved to be the fastest-selling new line in production during the season.
However, one of the biggest catalysts for change has been the transformation of outlets from a bakery layout to food-on-the-go shops. Whiteside attributed about 1% of that 4.5% like-for-like sales increase to the refurbishment of stores and a positive response from customers to the changes.
More than 200 shops were refurbished in 2014 with plans for a similar number again this year. And Whiteside also expected to return to a net growth in the overall store portfolio following a net reduction of 21 shops as 50 opened but 71 were shuttered. "We will be opening slightly more than the 50 opened in 2014 and we expect to close fewer," he says.
Edison's Chotai adds: "We believe Greggs will return to growth in its store estate in 2015 and continue to deliver returns on the back of its bakery food-on-the-go strategy, with a product offer and store base that is appealing to consumers."
He also predicted that the resumption in net store growth would be a positive catalyst for the stock, given the company had been pruning its estate for the past few years.
As well as the refurb programme, Whiteside says there is scope for "well over" 2,000 Greggs stores in the retailer's portfolio – it currently has 1,650 – but new locations would be mostly away from the high street. "We have got high streets pretty well covered but there is lots of opportunity in retail parks, industrial estates, office parks and the like," he says.
The chain is even experimenting in places where you wouldn't normally expect to see Greggs, such as the Isle of Wight ferry and in a couple of Spar convenience stores as concessions.
"While comparators will get sequentially tougher in 2015 (particularly Q4, given like-for-like growth of 6% for Q4 2014), the company's revamped bakery food-on-the-go appears to be working, with strong trading momentum and macroeconomic tailwinds entering into FY15," Chotai says.
"We also note that margins are still below their 2010 peak, so with an optimised store base and focus on cost controls there is still room for consensus upgrades and surprises to the upside."