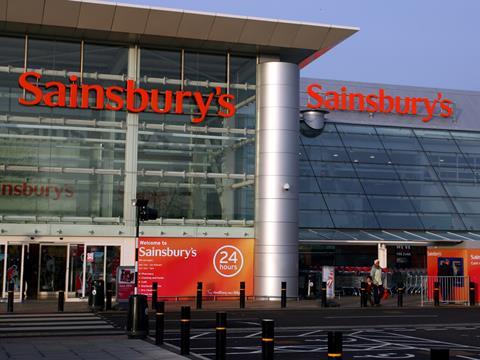 Top story
Sainsbury's (SBRY) has returned to profit after posting a £72m loss last year but underlying profits fell 13.8% amid a "competitive" market and "sustained food price deflation".
Profit before tax in the 52 weeks to 12 March was £548m, up from a loss of £72m in 2014/15. Last year's loss was driven by £628m of property write-downs, meaning that Sainsbury's underlying profit before tax declined by 13.8% to £587m from £681m last year.
Underlying group sales were down 1.1% to £25.8bn.
However, Sainsbury's said over the past year, it has maintained market share at 16.5 per cent as a result of both volume and transaction growth.
It stated: "Since November 2014, we have reduced the price of over 1,900 products and our price position against our main peers remains as competitive as it has ever been. We will continue to remain competitive on price in the market."
Despite this improvement in volume and transactions, its investment in price and underlying food price deflation led to negative like-for-like sales for the second year running, down 0.9% with supermarket sales down 1.6%.
Clothing grew by 8.5% and general merchandise grew by 3.5%, while Sainsbury's Bank increased its total income by over 5% to £274m and increased underlying operating profit to £65m from £62m.
During the year Sainsbury's achieved £225m of operational cost savings and is now expecting to deliver operational cost savings of around £120m in 2016/17 and is on track to deliver its three-year £500m target by the end of 2017/18.
Sainsbury's CEO Mike Coupe said: "We are making good progress against the strategy we outlined to shareholders in November 2014. We continue to outperform our main supermarket peers and maintain market share in a competitive, deflationary environment.
"Our core food business performed well, underpinned by our quality investment programme, our simpler pricing strategy and lower regular prices. We also saw strong growth in clothing and general merchandise, as well as in our convenience and online channels. These results reflect the multi-product, multi-channel shopping experience customers are looking for today and our proposed acquisition of Home Retail Group (HOME) will accelerate our strategy in this direction.
"The market is competitive, and it will remain so for the foreseeable future. We believe we have the right strategy in place and are taking the right decisions to achieve our vision to be the most trusted retailer where people love to work and shop."
Sainsbury's shares have plunged 3.4% to 276p in early trading so far this morning as its underlying earnings fell short of the £600m-£675m range expected by analysts and its sales fall in the latest market share figures (see below).
Morning update
The latest grocery market share figures from Kantar Worldpanel, for the 12 weeks to 24 April, have shown all four of the major supermarkets in decline for the first time this year as overall market growth rose by only 0.1%. This is a slowdown from the 1.1% reported in April, which was boosted by an early Easter.
Sainsbury's was the strongest of the big four, retaining its 16.5% share of the market while sales fell by 0.4% – the first time it has declined since July last year.
Morrisons (MRW) is still feeling the impact of having less store space than last year – this period sales were down by 2.6%. Sales were also down at Tesco (TSCO), by 1.3%, and at Asda, which now commands a 16% share of the market thanks to a sales fall of 5.1%.
Lidl was again the fastest growing retailer with sales up by 15.4%, while sales were up 12.5% at Aldi. The Co-operative's recovery continued as it grew sales by 3.3% year-on-year and its market share rose to 6.2% as its store refurbishments and range refresh takes effect.
Meanwhile, Nielsen's own market share figures agreed that all four of the major supermarkets saw a decline in sales. Aside from the discounters, only Marks & Spencer (3.1%), Waitrose (2.7%) and The Co-Operative (1.6%) saw higher sales than a year ago, and a rise in market share.
Nielsen added that the proportion of consumer spend at UK supermarkets that went on items on promotion has hit its lowest level in over seven years at 29%.
Elsewhere, Imperial Brands (IMB) saw first half adjusted operating profit rise by 19.5% after a strong contribution from its newly acquired US brands. tobacco net revenue was up 16.8% to £3.4bn in the six months to 30 March, with adjusted operating profit up 19.5% to £1.6bn. Total tobacco volumes were down 3.1%.
Alison Cooper, chief executive, commented: "This was a strong first half performance, as we continued to deliver against our strategic agenda. Our quality of growth continues to improve and we achieved excellent results from ITG Brands. We're focused on maintaining momentum in the second half and remain on track to meet full year expectations and create significant value for our shareholders."
Nivea owner Beiersdorf saw sales drop 1.9% to €1.7bn in the first quarter as a result of negative exchange rate effects. Group sales increased organically by 2.4%, but currencies reduced this growth by 4.2 percentage points and "structural changes" reduced growth by 0.1 percentage points.
Stefan Heidenreich, CEO of Beiersdorf said: "Beiersdorf remains on track. Our business strategy in consumer has proven itself in a market environment defined by high volatility and considerably intensified competition. The continued upward trend in the first quarter shows how strong our brands and innovations have become."
SABMiller (SAB) has updated the market on The Coca-Cola Beverages Africa merger, announcing that the various parties and the South African government have reached an agreement on the public intersest conditions of the merger. SABMiller, The Coca-Cola Company (KO) and Gutsche Family Investments are proposing to create Africa's largest soft-drink beverage bottling operation. Commitments made address concerns regarding employment, access to retail cooler space for smaller competitors, localisation of production and inputs used in the production of Coca-Cola products and Appletiser brands, economic empowerment and the location of the headquarters.
On the markets this morning, the FTSE 100 has edged down another 0.2% to 6,175.3pts to add to yesterday's losses.
Along with heavy falls at Sainsbury's (see above) the rest of the supermarket sector has been wobbled by its weaker than expected profits and the market share data falls.
Morrisons is down 3.3% to 184.7p so far this morning, while Tesco has dropped another 2.2% to 165.5p. Marks & Spencer (MKS) is down 0.9% to 416.4p, while Poundland (PLND) is down 2.9% to 165.8p.
One of the few risers is Just Eat (JE), up another 3.1% to 414.6p after yesterdays share price boost.
Yesterday in the City
The FTSE 100 slipped to a three-week low closing price of 6,185.6pts after concerns over weak Chinese manufacturing data hit mining firms and drove a 0.9% market decline in London.
Investor sentiment was not strong on UK grocers yesterday, with Sainsbury's down 1.1% to 285.7p ahead of its annual results this morning, Tesco down 1.7% to 169.3p and Ocado (OCDO) dropping 1.8% to 290.3p.
Most major grocery and fmcg stocks ended the day relatively flat, but there were rises at Greggs (GRG), up 3.6% to 1070p, Tate & Lyle (TATE) up 2% to 599.5p, Cranswick (CWK) up 1.5% to 2,276p and Dairy Crest (DCG), up 1.1% to 571p.
Conviviality, which yesterday announced a £40m deal to buy WINE, beer and spirits wholesaler Bibendum and a related rights issue, ended the day 2.8% down to 207.5p.
Online takeaway company Just Eat was up 4.9% to 402.3 after a surge of in-home eating helped it record a 57% rise in first quarter orders and an upgrade to its full-year revenue expectations.