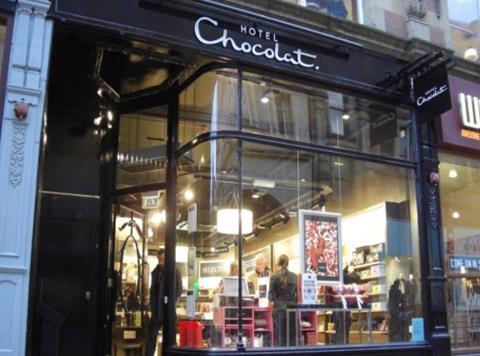 Top story
Sales and pre-tax profits both surged at Hotel Chocolat (HOTC) as new store openings and international ventures offset cost increases.
Sales jumped 11% to £116.3m for the 52 weeks ending 1 July 2018, as it was buoyed by 15 new store openings which contributed to 6% of sales.
During the year it opened a number of new shop and café format stores, and launched three international joint ventures.
The retailer now has a Scandanavian franchise, launched this summer, a joint venture in Japan and its first store in the US.
Pre-tax profits for the period rose 13% to £12.7m, while underlying EBITDA increased 16% to £18.9m.
Despite increasing pressure on raw material costs caused by the "decline of sterling", this was mitigated by "improving productivity and leveraging increased scale", the company said.
It confirmed that £6.5m in chocolate bonds have also been paid in full to customers, which were designed to open new stores and develop cocoa sustainability projects in St Lucia and Ghana, when issued in 2010 and 2014.
Cash was invested into factory facilities during the year, with the completion of a £1.4m project to increase molten chocolate handling by 190%.
"I am pleased to report another year of significant progress for the Group. All channels achieved growth and cost efficiency resulted in an improved EBITDA margin," said co-founder and CEO, Angus Thirlwell.
"The encouraging performance of our UK channels means we remain confident of further growth, with an exciting range of new product innovations for this autumn, including our Chocolat Cream Liqueur and the Velvetiser in-home Hot Chocolat system.
"We are increasingly confident that international expansion presents a growth opportunity, and will be adopting a cautious 'test, learn, grow' approach to our new partnership in Scandinavia and our new ventures in the US and Japan, where we intend to open our first stores this winter."
Earnings per share increased to 8.8p, from 7.8p last year, while the full year dividend also rose, to 1.7p per share, from 1.6p.
Morning update
AG Barr shrugged off the sugar tax and CO2 shortage to raise first half profits by 4%, as sales were buoyed by investment and innovation into core brands.
Sales jumped 5.5% to £136.9m at the Irn-Bru and Rubicon manufacturer in the six months ending 28 July 2018, despite the sugar levy introduced in April.
Profits before tax and exceptional items also rose, growing 4% to £18.2m, despite "reformulation, weather extremes and CO2 shortages".
The supplier saw market share gains on the back of investment and innovation into core brands, including the new Street Drinks range of Rubicon.
Cocktail mixer Funkin has "gained traction" through new formats, it said, while newly established partnerships with European brands San Benedetto and Bundaberg also progressed well.
On the back of investment, AG Barr's free cash flow reduced by more than half to £9.4m in 2018, with net funds of £4.2m at the period end, down from £7.9m in 2017.
The Scottish business remains on target to achieve full year profit expectations, the company said, although it added that planned investment for the second half is expected to impact margins.
"We have delivered a solid financial performance in the first half of the financial year, navigating through the Soft Drinks Industry Levy implementation, reformulation, extremes of weather and CO2 shortages in addition to a dynamic consumer, customer and macro-economic environment," said chief executive Roger White.
"Our core brands have performed well and have good momentum with both consumers and trade customers.
"We will continue to ensure our actions and investment decisions support our long term growth strategy. We plan to invest further across the second half of the financial year which we anticipate will have a moderate impact on margins. We remain on target to meet our profit expectations for the full year."
Elsewhere, UK tobacco giant Imperial Brands says it remains on track for sales and earnings growth "in line with expectations" for the year, driven by improved second half sales.
Despite a drop in tobacco volumes in the second-half, the Davidoff maker said that improved tobacco price-mix and building sales of smoke-free product myblu have led to a strong second period.
Ahead of a capital markets event in London this afternoon, the manufacturer said that for the period ending 1 October 2018, it will see revenue growth in line with guidance.
Fellow tobacco giant, British American Tobacco (BATS), has announced that current COO Jack Bowles will become its new CEO when Nicandro Durante steps down next year.
Bowles will become CEO-designate on 1 November, before joining the board on 1 January and replacing Durante fully on 1 April 2019.
The FTSE 100 has rebounded slightly this morning, moving up 0.1% to 7,467.9pts despite continuing fears to trade tariffs.
Hotel Chocolat has risen upon news of its strong sales growth, surging 3.7% to 350p in early trading.
Other early risers include Imperial Brands (IMB), up 1.5% to 2,649p, Fever-Tree Drinks (FEVR), up 1.4% to 3,689.3p and Marks and Spencer (MKS), up 1.4% to 288.3p.
Fallers this morning include JD Wetherspoons (JDW), down 2% to 1,291p, BAT, down 1.3% to 3,497p and AG Barr (BAG), down 1.1% to 722p after its interim results announcement this morning.
Yesterday in the city
The FTSE 100 closed in the red, down 0.4% to 7,458.4pts, as trade tariff concerns in the US and China impacted the markets, with Wall Street stocks also floundering.
On European soil, French supermarket chain Casino said yesterday that it rejected a potential takeover approach from hypermarket Carrefour, a claim which Carrefour denied.
Risers in yesterday's trading include Purecircle (PURE), up 3.2% to 270p, Treatt (TET), up 2.9% to 492p, Finsbury Food Group (FIF), up 1.6% to 124p, and Carr's Group (CARR), up 1.3% to 154p.
Just Eat (JE.) continued to fall away, dropping 2.5% to 657p, as news of talks between Uber and Deliveroo continued to press down on the meal delivery competitor.
Yesterday's fallers included Majestic Wine (WINE), down 3.5% to 400.5p, MP Evans Group, down 2.7% to 270p, and McColls (MCLS), down 2.3% to 151p.