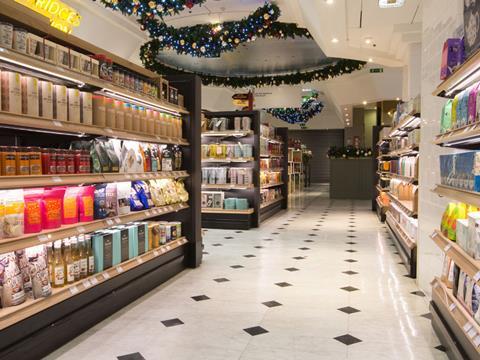 Selfridges has shrugged off retail woes and revealed an 8% boost in sales across all channels in the 24 days to Christmas, compared with the same period in 2017.

Sales were up also up 8% in the week leading up to Christmas 2018, which it credited to its continued in-store investment.

Its Oxford Street flagship store was found to be one of the biggest draws for shoppers, with sales increasing 10% in the 24 days to Christmas 2018. The store underwent a vast revamp last year, including the opening of a new accessories hall and menswear section, as well as Selfridges' Instagrammable Brasserie of Light restaurant.

Its other two stores had refurbishments of their own, with Gucci and Jimmy Choo boutiques opening at the Birmingham branch and a new beauty hall double the size of its 10,000 sq ft predecessor for the Manchester branch.

Selfridges sold more than 200,000 individual mince pies, 9,000 bottles of personalised Veuve Clicquot and almost 40,000 Advent calendars during the period.

"We are delighted to have delivered such a strong performance over Christmas," said Selfridges managing director Anne Pitcher. "Our Selfridges Rocks Christmas theme and entertainment really resonated with customers, both across our stores and online. Our customers come to us for the unexpected and I feel this year we delivered just that."

Selfridges said increased footfall to its branches and online was mainly driven by new and exclusive products in the run-up to Christmas, along with in-store entertainment including cabaret, Santa appearances and performances from choirs.

Sofie Willmott, senior retail analyst at GlobalData, said: "As expected, Selfridges has delivered a robust Christmas performance as its investment in stores to maintain destination appeal among both domestic consumers and tourists continues to pay off. Selfridges' impressive growth has far outstripped that of the only midmarket department store retailer to report on Christmas trade so far - John Lewis' sales in the two weeks prior to Christmas rose just over 4% and we expect Debenhams and House of Fraser to have struggled given the plethora of discounts they had."

She added that although 2019 was set to be "another tough year" for retail, Selfridges was "firmly on track to continue to outperform the market as its in-store proposition remains attractive to consumers that are increasingly willing to spend on experiences over products".