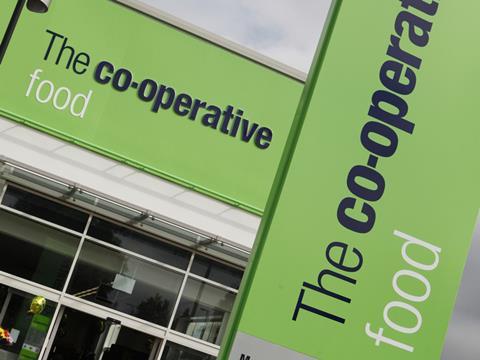 A slide on The Co-operative Group's interim results presentation this morning highlighted just how drastically the society has changed in the last 18 months.
The simple slide listed underlying profits for each of its business segments. Those segments were food, funeralcare, general insurance and 'other' businesses. Just four business segments.
In the space of three months it has sold off The Co-operative Pharmacy, The Co-operative Farms and Sunwin Services Group. And it has, of course, already divested all but 20% of The Co-operative Bank. It also put its general insurance business up for sale last year, although in January it announced it had decided to keep it.
But as Richard Pennycook – who was confirmed this morning as the society's new permanent CEO having held the role on an interim basis for the past six months – was quick to point out, these divestments were needed to "reshape the group to ensure it is on a sustainable footing".
The Co-op Group reported a £2.5bn loss at its prelims in April, but its interims for the 26 weeks to 5 July show it is now back in profit. Group underlying operating profits were £66m, versus £116m the year before, with sales down from £5.3bn to £5.1bn.
As the three recent disposals are still to be completed, they weren't included in the numbers, but Pennycook said they would "dramatically" change the group's year-end net debt. The three businesses were sold for a total consideration of £910m, proceeds that Pennycook said had "exceeded expectations".
These proceeds would be used to reduce the group's overall debt position and be invested in the business. Its net debt at the half year stands at £1.4bn, but Pennycook anticipated this would reduce to £1bn by the year end – a figure he described as "very manageable for a group of our size" and "a long-term structural debt".
Looking ahead, those waiting for granular detail on the society's new strategy were left disappointed.
The strategy – 'championing a better way of doing business for you and your family' – was first unveiled at the Co-op's agm in May. But details today remained scant.
The Co-op would take a "leadership position to support the empowerment of communities on issues that are relevant to our members and our business activity, where we can make a tangible difference". The society needed "to be commercially successful but within a framework of co-operative ownership and ethical responsibility". The society's "fundamental aim to enable and strengthen the communities in which we trade. We want to be locally relevant and create compelling reasons why members and customers should be loyal to us".
Its Have Your Say research, commissioned in February, is also still in progress. And over the next six months, the Co-op would look at ways to "revitalise" its membership proposition and develop a new model of local co-operative presence in communities.
All of this, Pennycook said, made him confident "we can restore The Co-op Group's reputation and rebuild our members' and customers' trust".
Today's results show the fortunes of The Co-op are on the up, but as Pennycook freely admits, "much remains to be done". It's had a torrid 18 months – now's the time for revitalisation.