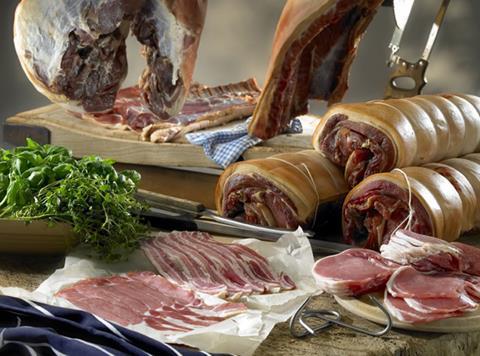 Deflation in pig prices has continued to act as a drag on Cranswick revenues in its third quarter but failed to make a dent in the group's profits.
The meat supplier reported a 2% improvement in sales volumes for the three months to 31 December as fresh pork returned to growth.
Cranswick said trading over Christmas was strong with December total and underlying sales "well ahead" year on year.
However, underlying revenue was down 3% as volume growth was offset by deflation across the group's sales base, reflecting the ongoing fall in raw material costs with pig prices continuing to fall across the UK and the EU.
"The markets in which Cranswick operates continue to be competitive, but the group remains focused on delivering innovative products of the highest quality and exceptional service levels to its customers," Cranswick said.
Total sales for the quarter, including the contribution of poultry business Benson Park, which Cranswick acquired in October, were "marginally ahead" of the same period last year. And export sales continued to gain momentum with trade to non-European markets up 38% on the same period of 2013.
House broker Shore Capital revised down full-year revenue forecasts slightly as a result of the pressures on pig prices from £1.02bn to £1.01bn – equating to 1.8% growth year on year. But its profit expectations remain unchanged (EBIT of £57.6m) on the back of expected robust margin performance, continued investment in processing infrastructure, a focus on costs and a strong performance over Christmas.
Investec analyst Nicola Mallard added that Cranswick had continued to buck the trend in UK grocery over the quarter.
"Deflation in pig prices continues and is impacting revenues, but is not detrimental to profits," she said. "The group looks well-placed to weather the competitive landscape, with a strong management team, a well-invested asset base and a healthy balance sheet."