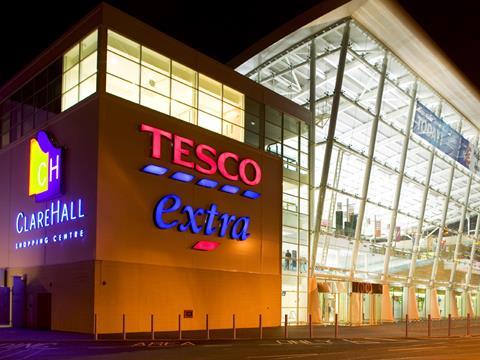 The Irish grocery market has grown by 3.8% over the past 12 weeks according to Kantar Worldpanel, with Tesco (TSCO) recording its best sales figures since 2012.
The latest supermarket share figures from Kantar Worldpanel in Ireland for the 12 weeks ending 31 January, showed shopper spend rose by 3.8% - topping the market's strong Christmas performance of 3.5% growth.
Tesco recorded sales growth of 1.1%, which is the supermarket's most positive performance since November 2012.
Tesco's market share in the country has dropped from 25.2% to 24.5% year-on-year, losing its status as the market's biggest player to Dunnes (with 25% up from 24.8%).
However, the supermarket's sales turnaround in Ireland is further evidence of a wider improvement in performance at the UK's largest grocer.
"Tesco appears to be stabilising and so more resilient under the management of Andrew Yaxley in the Emerald Isle," said Shore Capital analyst Clive Black. "Tesco's improvement in Ireland is representative of broad scale groupwide progress."
Dunnes and SuperValue led the way in terms of sales improvements among the major supermarkets during the 12 week period, up 5.1% and 4.4% respectively reflecting the growing confidence in the Irish economy.
Georgieann Harrington, insight director at Kantar Worldpanel, said: "The increased consumer confidence we saw over Christmas has continued, with little indication that shoppers are tightening their belts after the festive period. Combined with a 0.4 percentage point increase in price inflation over the past 12 weeks, this means that consumers have been spending more on their grocery shopping than this time last year."
The discounters were up a collective 7.1%, with Lidl up 11.7% and Aldi up just 2.9% in the period. Lidl's stronger growth means it currently has an 8% market shares against Aldi's 7.9%.
Black commented: "We note that Lidl had a much stronger implied sales performance than Aldi in Ireland, which fits in with our view that the former is opening a merchandising and proposition lead on the latter."