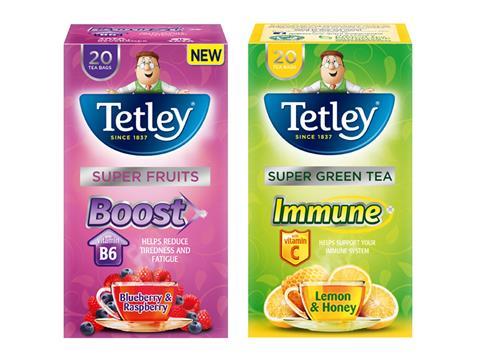 The owner of Tetley Tea plunged to a loss in the UK last year as it battled the twin pressures of rising commodity costs and a "structural decline" in Britain's core tea market.

Tata Global Beverages GB posted a headline loss of £863k in the year to 31 March 2016, having made a post-tax profit of £13.2m last year as Brits change tea-drinking habits.

Newly filed accounts reveal sales in the UK subsidiary of the Indian conglomerate fell 6% to £137.8m during the year, having already dropped 9% to £146.6m in its year ended March 2015.

Tata blamed a "structural decline in the UK everyday black tea market" and "competitor intensity" for the falls.

The Grocer recently reported UK consumers are drinking 64 million fewer cups of tea a year, with overall tea sales down by 4.7% in value [Kantar Worldpanel 52 w/e 22 May 2016]. The headline loss was largely driven by a £7.2m impairment relating the underperformance of Tata's Eastern Europe tea brands.It made an operating profit before exceptional items of £6.9m, but this was still more than 50% down year on year, and cut operating margin back to 5% from 9.7%.

Profits were hit by higher commodity costs and the impact of these will have intensified after the Brexit vote-driven plunge in the pound.

Director of customer and shopper marketing Peter Dries said Tetley had been absorbing higher production costs for some years, but was currently reviewing its pricing strategy.

"We have to achieve a better balance between price and promotions and we've been liaising closely with our customers to make progress."

"The weak pound is just one element of a much bigger picture and we have been reviewing costs with customers in a process which began well before the fluctuations in the currency that we are seeing now." Tetley is pushing into other areas of the hot beverage market, notably green and speciality teas.

The Tata Global Beverage annual report earlier this year said its health-focused Super Greens rang was the "star performer" in the UK market and had significantly increased sales over the past two years.

Tetley also launched a range of vitamin-infused Super Fruit Teas during the year and picked up a Grocer New Product award for the range earlier this month.

"The market for tea has changed, but we've been responding well with strong marketing and development of new products," Dries said.He pointed to "encouraging" recent market share across all segments and sales alue growth of 2.7% for Tetley in the most recent 12-week period, according to Nielsen.

According to the annual accounts, sales generated by the UK fell by 7.2% to £120.8m last year while sales derived from the rest of the world rose almost 3% to £17m.