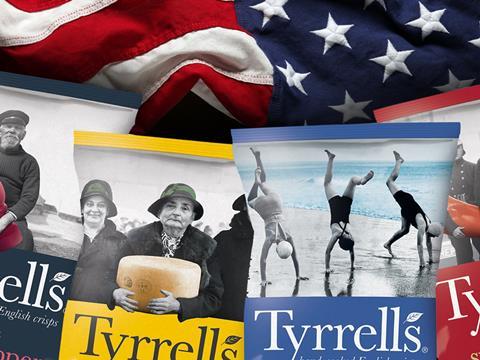 US food group Amplify Snack Brands (BETR) saw fourth quarter sales almost double following its acquisition of UK crisp brand Tyrrells.
Sales in the three months to 31 December were up by 91.1% to $88.6m in the quarter, with full-year net sales up 47.2% year-on-year to $270.8m.
Amplify said this increase in net sales reflected the full quarter contribution from both Tyrrells' international portfolio of brands as well as Oatmega and continued solid growth of its SkinnyPop brand and new distribution and increased velocities of its Paqui brand
Gross profit in the quarter was gross profit was $36.8m, or 41.5% of net sales, which was up from $26.2m but down from the 56.5% of net sales gross profit represented in the same quarter last year.
For the full year adjusted EBITDA increased 13.4% to $84.9m, but adjusted EBITDA as a percentage of net sales was 31.4% compared to 40.7% last year.
Amplify said this reduction in profitability was primarily due to the acquisition of Tyrrells.
Tom Ennis, Amplify's CEO said: "2016 was a year of transformation for Amplify. We strategically expanded and diversified our better-for-you product offering and began to make key leadership team additions to further strengthen our execution to deliver the growth we know our company is capable of achieving over the next several years,"
"Looking ahead, we have a robust innovation pipeline and remain very excited about our acquisition of Tyrrells as we begin to leverage our cross selling opportunities during 2017."
For the year ended December 31, 2016, North America net sales rose to $229.7m from $183.9m and operating income was up to $82.3m from $76.5m.
Its newly created international division – formed following the acquisition of Tyrrells – generated sales of $41.1m and operating income of $2.8m during the year.
For the full year 2017 Amplify expects to report net sales of $404m-$420m and adjusted EBITDA of between $103m and $111m.
Amplify shares dropped by 5.4% to $8.47 in morning trading in New York after it warned a number of gross margin headwinds will result in lower earnings per share guidance than the market had expected.