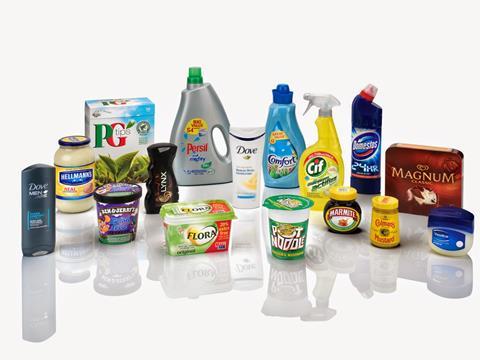 Top story
Unilever has posted broadly flat organic sales and improve profits in the first half of the year in a performance that shows "the true strength of Unilever" according to its CEO.
Underlying sales declined just 0.1% in the first six months of 2020 depsite the impact of the coronavirus crisis, with volume declining 0.3% and price growth of 0.2%
Turnover decreased 1.6% including a positive impact of 1.1% from acquisitions net of disposals and negative impact of 2.5% from currency.
Unilever said the impact of Covid-19 on its business varied widely across its channels and categories.
"Channel closures as a result of lock-downs in our markets negatively impacted food service, out of home ice cream and Prestige businesses. Foodservice declined by nearly 40% and out of home ice cream declined by nearly 30%. Shoppers moved from offline to online channels, driving e-commerce growth of 49%," it said.
"It also meant that consumers had fewer personal care occasions from going to work or socialising, and we saw a decline in our personal care business, except for hygiene products."
However, as people spent more time in their homes, it saw growth in home consumption of foods, ice cream and tea.
Also, consumers eating and cleaning more at home, and focusing more on hand hygiene, led to underlying sales growth in North America of 9.5% in the second quarter, despite a negative impact of 3.7% from food solutions and Prestige channel closures.
In total, foods & refreshment underlying sales declined 1.7%, with volumes down 2.5% and positive pricing of 0.8%.
Home Care underlying sales grew 3.2%, with 2.9% from volume and positive pricing of 0.3%, while Beauty & Personal Care underlying sales declined 0.3%.
Underlying operating profit increased 3.8% to €5.1bn excluding a negative impact from currency of 3.2%.
Underlying operating margin also continued to improved by 50bps.
In response to lock-downs, the group reduced spend in some channels and geographies while maintaining investment in growth opportunities. This, combined with a deflationary environment in media rates, led to a reduction in brand and marketing investment by 100bps during the period.
However, in the second half of the year, Unilever expects to see "higher brand and marketing investment, as lockdowns ease and we support brand campaigns and product innovations tailored to the new environment."
CEO Alan Jope commented: "Performance during the first half has shown the true strength of Unilever. We have demonstrated the resilience of the business - in our portfolio, in a continued step-up in operational excellence, and in our financial position - and we have unlocked new levels of agility in responding to unprecedented fluctuations in demand.
"From the start of the Covid-19 crisis, we have been guided by clear priorities in line with our multi-stakeholder business model to protect our people, safeguard supply, respond to new patterns of consumer demand, preserve cash, and support our communities.
"Our focus for the rest of 2020 will continue to be volume led competitive growth, absolute profit and cash delivery as this is the best way to maximise shareholder value."
Unilever has also completed the review of its global tea business, which will result in the sale of the majority of the business.
The company will retain the tea businesses in India and Indonesia and the partnership interests in the ready-to-drink tea joint ventures. However, the balance of Unilever's tea brands and geographies and all tea estates "can best be achieved its potential as a separate entity".
A process will now begin to implement the separation, which is expected to conclude by the end of 2021.
The tea business that will be separated generated revenues of €2bn in 2019.
Unilever shares have jumped 6.7% to 4,619p in early trading this morning.
Morning update
Tate & Lyle has issued a trading statement for the three months to 30 June 2020.
The sugar substitutes producer said overall revenues in the quarter were down 5%, reflecting the impact of lockdowns on out-of-home consumption in North America and Europe, partially offset by resilience from in-home consumption.
Having seen fluctuating demand patterns in April and May, demand improved in both divisions in June as lockdowns started to ease, but the full extent of the pandemic's impact still remains unclear, it said.
Revenue in its Food & Beverage Solutions division was 1% higher at £232m, benefiting from good price and mix management and 9% growth in new products revenue.
Sucralose revenues were 1% down to £39m, reflecting softer demand for products consumed out-of-home, particularly beverages.
Its primary products arm saw revenues drop 9% to £420m. North American bulk sweetener volume was 12% lower reflecting reduced out-of-home consumption (representing around 30% of sweetener consumption) with demand recovering sequentially during the quarter as some US states began to ease lockdown restrictions.
CEO Nick Hampton commented: "As expected, the first quarter presented many challenges and I am very proud of the way we are navigating the impact of Covid-19. We are encouraged by the improvement in demand we saw in June and the continued strategic progress we are making, with new product revenue growing 9% in the quarter.
"The fundamentals of our business are sound. Demand for ingredients and solutions which enable consumers to enjoy healthier and tastier food and drink is strong, and we have the portfolio of products and technical expertise to help our customers deliver on these trends.
"Looking ahead, our priorities are clear - to look after our people and communities, strengthen our relationships with customers, continue to progress our strategy and maintain our financial strength. I am confident that our future prospects remain strong."
Elsewhere, Pernod Ricard has slightly upgraded its full year profit expectations.
It previously said the Covid-19 pandemic would lead to organic decline in profit from recurring operations for FY20 of 20%, resulting from the a slow recovery from limited business in February and March and an 80% drop in travel retail business.
While these assumptions have proven to be directionally correct, in particular as regards China and Travel Retail, there have however been some notable differences, mainly with India being subject to a full six-week lockdown of all sales and production, but more resilience in the off-trade, especially in the USA and Western Europe.
As a result, and thanks to strong cost mitigation, Pernod Ricard now expects an organic decline in profit from recurring operations for 2020 of 15%.
On the markets this morning, the FTSE 100 is up 0.4% to 6,231.3pts.
Along with Unilever, early risers include Tate & Lyle, up 3.2% to 673.6p, Glanbia, up 2.9% to €10.62 and Naked Wines, up 2.4% to 405.1p.
Early fallers include Applegreen, down 2.7% to 330.9p, Devro, down 2.5% to 134p and Marston's, down 2.2% to 44.9p.
Yesterday in the City
The FTSE 100 ended the day down 1% to 6,207.1pts.
Nichols rose 7.2% to 1,270p despite posting a sharp first half sales and profits drop due to the collapse of out of home revenues.
Fellow soft drinks producer Britvic was down 0.3% to 795p after its quarterly revenues fell 16% due to lockdown.
Yesterday's fallers included Bakkavor, down 6.9% to 68p, Applegreen, down 5.6% to 340p, SSP Group, down 3.7% to 244.6p, Associated British Foods, down 2.6% to 1,872.5p and Naked Wines, down 2.4% to 395.5p.
The day's risers included PayPoint, up 7.6% to 607p, Carr's Group, up 4.4% to 118p, Coca-Cola European Partners, up 3% to €35.15 and B&M European Value Retail, up 2.1% to 449.5p."