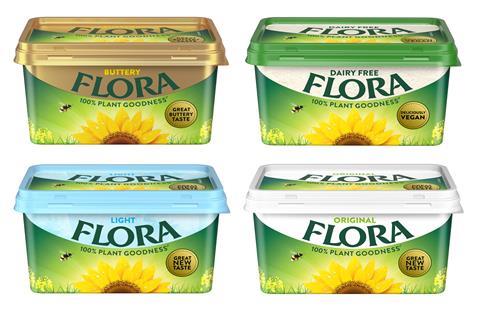 Profits plunged at the former Unilever spreads portfolio bought by private equity giant KKR in the year it was sold.

Newly filed accounts for Upfield Foods, the UK operating company of new Flora and Bertolli owner Upfield, show a 41% drop in operating profits in the year to 31 December 2018 from £7.8m to £4.6m.

Revenues edged up 1.2% to £185.5m, but a 64% hike in administrative expenses, including a 20% rise in staffing costs, hit the bottom line.

Upfield took control of Unilever's spreads portfolio on 2 July 2018 after KKR agreed a €6.8bn deal to acquire it in December 2017.

An Upfield spokesman said the results reflected "necessary one-off restructuring costs" due to the split from Unilever.

"Despite some supply challenges earlier in the year, over the past few months, we have seen particularly strong sales performance across our portfolio and have an exciting innovation pipeline which will continue to fuel performance," he said.

New research for The Grocer shows Upfield has hiked prices across its key brands to help bolster its bottom line in the face of falling sales volumes.

Average unit prices for its biggest brand Flora are up 13.5% year on year [Nielsen 52 w/e 7 September 2018], while its second-largest brand Bertolli has seen an 18.6% price hike.

However, volume sales slumped at both brands, leading to a 11% value sales drop for Flora to £118m and a 1.5% decline in Bertolli to £37.5m.

Upfield has continued to cut costs with the closure of its Purfleet site, with the reported loss of about 200 jobs. It said in January 2019 the decision was taken due to the "high cost and under-utilisation" of the factory. The financial implications of the closure are not included in the reported accounts because no formal decision had been reached by the end of the financial year.

The group has also invested heavily into its brands since splitting from Unilever.

Earlier this year, Upfield reformulated and relaunched its Flora portfolio as part of a pivot towards 100% plant-based ingredients.
It has also revamped cholesterol-reducing Flora ProActiv, brought back classic margarine brand Blue Band margarine and revived the I Can't Believe It's Not Butter name, reversing an earlier decision under Unilever ownership that had seen its name change to I Can't Believe It's So Good.
In October, Upfield purchased Greek vegan cheesemaker Violife Foods for around €500m in a bid to deepen its push into higher growth plant-based categories.

The spokesman added: "In a category where choice is key, we continue to offer consumers the option to move away from dairy to healthier, more natural and sustainable alternatives.
Our ambition is to create a 'better plant-based future'; driving positive change in people's lives by focussing on products that are made using natural, healthy ingredients and processes, whether they are used to cook, bake or spread."