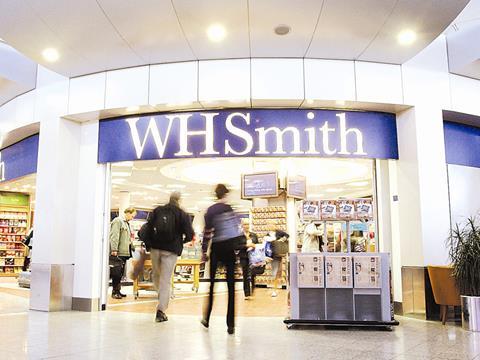 Top story
Travel revenues continues to rise at WH Smith (SMWH), which has announced 8% growth in first half sales after its acquisition of US travel retailer InMotion.
Total group revenue was up 8% in the six months ended 28 February 2019 from £643m to £695m with group like for like revenues edging up 1%.
Travel sales jumped 18% compared to last year and up 3% on a like-for-like basis driven by US expansion, ongoing investment and growth in passenger numbers.
The acquisition of travel accessory retailer InMotion, which operates from 115 stores across 43 airports in the US, was completed on 30 November 2018 and helped the "fast" growth of its international business.
WH Smith said it has won a further 21 new units since the start of the financial year including further units in Europe, Australia, the Middle East and now has 425 units open internationally.
Revenues in its High Street division continued to decline, though the half year performance was its second best performance in the past decade.
Like for like revenues were down 2% with total revenue down just 1% in the period.
Group profit from trading operations increased to £92m from £91m in the corresponding period last year, with headline group profit before tax edging back to £81m from £82m.
Including non-underlying items relating to the acquisition of InMotion and the completed review in High Street announced in October 2018, group profit before tax fell to £65m.
Trading profit increased by 7% to £44m in its travel division, of which £6m related to its growing international business including InMotion.
High street trading profit fell back from £50m to £48m, though gross margin improved 70bps in the period and £4m of cost savings were delivered in the first half of the year.
The WH Smith board has declared an interim dividend of 17.2p per share, an 8% increase on last year, reflecting the board's "confidence in the future prospects of the group, the strong cash generative nature of the business, and the positive outlook for the full year".
CEO Stephen Clarke commented: "The integration of InMotion is progressing well. This acquisition doubles the size of our business outside of the UK where we are now present in 99 airports and 30 countries.
"High Street delivered one of our best trading performances in recent years, despite the widely reported challenges facing the UK high street. This has been driven by good growth in seasonal stationery ranges including Christmas cards, wrap, diaries, calendars and our latest fashion and art and craft ranges.
"While there is uncertainty in the broader economic and political environment, we have made a good start to the second half of the financial year and the increase in the interim dividend by 8% reflects the Board's confidence in the outcome for the full year."
Morning update
News emerged late last night that the UK look likely to stay in the EU until 31 October.
The EU agreed to extend the Brexit deadline for a longer period than Prime Minister Theresa May had requested, though there is a review of the situation scheduled for June. The news means the UK looks set to take part in European elections, despite May early this morning insisting a Brexit deal could still be struck before May 22.
On the markets this morning, the FTSE 100 has opened down 0.5% at 7,385.4pts, though the value of the pound has barely moved since the confirmation of the Brexit extension.
Early risers include Premier Foods (PFD), up 4.5% to 36.2p, Hotel Chocolat (HOTC), up 1.6% to 353p and Marston's (MARS), up 1.6% to 101.6p.
Fallers include Hilton Food Group (HFG), down 2.5% to 930p, Ocado (OCDO), down 2% to 1,406.5p and Marks & Spencer (MKS), down 1.2% to 278.7p.
Yesterday in the City
The FTSE 100 ended the day yesterday broadly flat, less than four points down at 7,421.9pts.
Tesco continued its share price recovery since the start of the year, rising a further 3.6% to 242.3p after yesterday posting a 29% surge in annual pre-tax profits as it benefitted from cost savings of over half a billion pounds and a 11.5% rise in annual sales to £56.9bn.
Tesco fell as low as 187p just before the turn of the year.
The other major FTSE grocery mover was Reckitt Benckiser, which slumped 6.5% back to 5,992p on worries the group will be caught up in the fallout from the collapse of shares in Indivior, which was hit yesterday by 28 charges mainly fraud-related charges from regulators in the US.
Indivior owned by Reckitt during the period it is accused of illegally elevating sales of its opioid addiction drugs before it was spun out into a separate company.
Elsewhere, other risers yesterday included Finsbury Food Group (FIF), up 5.2% to 69.5p, FeverTree (FEVR), up 3.2% to 2,992p, C&C Group (CCR), up 2.5% to €3.35, B&M European Value Retail (BME), up 2.3% to 390p, Greencore (GNC), up 2.1% to 210.8p and Ocado (OCDO), up 1.9% to 954p.
The day's other few fallers included McBride (MCB), down 1.5% to 105p, Devro (DVO), down 1.3% to 182p and Hilton Food Group (HFG), down 0.9% to 954p.