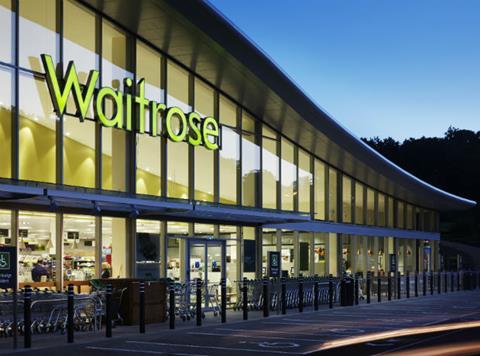 Waitrose posted record levels of profits last year, according to newly filed accounts, as sales boomed during a period in which it benefited from controversial government business rates relief.
Annual accounts for Waitrose Ltd at Companies House show pre-exceptional operating profits surged by 71% to £277.5m in the year ending 30 January 2021. This is the highest figure on record, top ping s the £261m in achieved in 2013 before the discounter price war.
Profits on ordinary activities before taxation were also at record levels, despite more than £65m of exceptional costs incurred during the year, more than trebling from £44.9m to £158.5m.
The supermarket's sales were up 10.3% to £6.9bn, with like-for-like sales excluding fuel up 9.8% amid surging demand during the pandemic and a 182% hike in online sales despite the ending of its partnership with Ocado in September.
Parent group John Lewis Partnership previously said Waitrose's trading profit had risen 7.7% to £1.15bn, but the new figures point to a more stark recovery in its bottom line.
Waitrose argued the trading profit was a more accurate measure of performance as it stripped out centrally managed costs that are out of control of the brands. Additionally a spokeswoman said in cash terms the £33.4m difference between the £82m increase in operating profits in the annual report and the £115.4m increase in the Waitrose accounts was less stark in absolute terms.
The Waitrose Ltd accounts said it faced higher costs to fulfil online orders, which diluted profit margins, as well as facing higher labour costs through sickness and the shielding of vulnerable staff.
However, its bottom line was helped by the £85m of government business rates relief and the decision not to pay any annual bonus to staff. The bonus pot had already dropped to £16.3m in the previous year, down from over £110m in accounts for 2013 and 2014.
JLP has come under fire for its refusal to pay back the rebate alongside its major supermarket contemporaries, instead insisting the relief was "crucial" to help it trade through the pandemic in light of the closure and trading slump of John Lewis & Partners.
The overall JLP accounts posted in March showed a group-wide annual loss of £517m as it took a £648m writedown on its department store estate as the pandemic hammered trading. The group made a £131m pre-exceptional profit, though this was driven by £190m worth of government support, including £135m of business rates relief.
A Waitrose spokeswoman said: "We're very grateful for the support we've received and we've only taken from the government what we've felt necessary to get us through the pandemic.
"We used funding exactly for the reason it was provided - protecting jobs and the business and was critical to cover the direct operational costs relating to Covid and the substantial hit to trading operating profit."
"We are one business and one Partnership. This was demonstrated in the pandemic with many John Lewis partners helping the Waitrose business and reflects how we organise and run the brands, sharing assets, resources and finances."
"The Waitrose Ltd statutory accounts reflect how our legal structure is organised, but doesn't reflect how the Partnership operates."
The Waitrose accounts showed restructuring costs continue to weigh on the supermarket as well as its under-pressure department store sister company.
Waitrose incurred exceptional costs of £65.1m last year, including £58.1m related to its restructure of head office operations and a £16.6m impairment on its store estate.
Writing in the accounts, CFO Bérangère Michel said the outlook for the supermarket group remained "uniquely uncertain" due to unknowns related to the country's exit from lockdown.
"We now have a five-ear Partnership Plan, which focuses on growing our business, reducing our costs and reinvesting the proceeds in improved customer service to ensure Waitrose remains a go-to brand for quality, value and sustainability, with greater eased and convenience."
During the year the supermarket closed seven Waitrose stores as it continues to focus on 'right sizing' its estate.
It is also trailing the introduction of John Lewis shopping areas in five Waitrose stores, with "positive" early signs and the potential to roll the trial out to a "significant" number of its 331 Waitrose outlets.