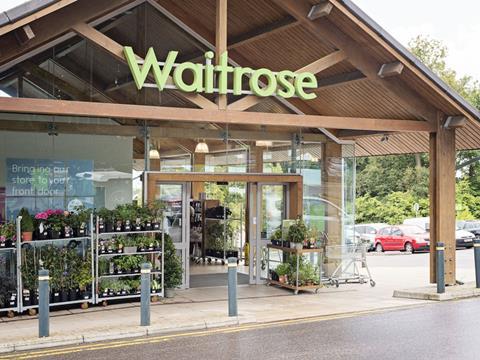 Waitrose's operating profit plunged by 9.4% during the first half despite rising sales.
Profits were hit by competitive pricing at its rivals and by soaring investment in its stores, which grew 120.6% year on year.
The supermarket's overall sales in the six months to 26 July grew by 4.1% to £3.15bn, while like-for-like sales were up 1.3%, parent group John Lewis Partnership revealed today in its first-half results.
Profit on these sales fell to £145.2m, 9.4% lower than the profit achieved during the first half of 2013. Waitrose said the decline in profit "was mainly as a result of the substantial levels of investment made across the business and, to a lesser extent, the tough market conditions".
Waitrose has not been immune to the developing price war, having pledged to match Tesco on branded products (excluding promotions) and Sainsbury's on own-label products. The supermarket said it had also increased promotions during the period for its myWaitrose customers.
Despite the competition on price, the reatiler's market share grew to 5% and it recorded, on average, 670,000 more customer transactions a week compared to the same period last year.
Waitrose also significantly expanded its online service, with online grocery gross sales up by 54%. It recruited 46,000 new customers during the period and increased the number of delivery slots available by 79% year-on-year. Additionally, it is increasing the number of branches offering click & collect for grocery orders and for John Lewis orders.
Investment
Overall investment in Waitrose was £220.2m, up from £120.4m last year. The supermarket opened 15 new branches during the period, compared with four branches and one relocation in the corresponding period last year. It also opened in five additional Welcome Break locations.
Other investments included three major store refurbishments and one store extension along with the revamp of the front of store of a further 40 shops. Additionally, 76 shops were given horticulture pods (compared to 44 in the same period last year).
In terms of outlook, the group stated that the grocery sector "remains challenging and we expect that to continue to be the case for some time".
However, it said it had made an "encouraging" start to the second half of the year, with Waitrose gross sales increasing by 5.2% (0.9% on a like-for-like basis).