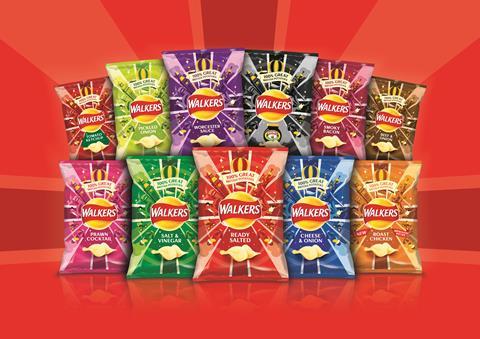 The sales and profits of UK's biggest crisps brands Walkers were hit last year by consumers shifting away from its core range and a poor potato harvest increasing costs.
The Pepsi-owned brand splits its UK accounts across a number of companies – with separate arms for its manufacturing, sales and marketing and distribution businesses.
All three saw declines in profitability as a shortage of potatoes in the UK and Europe in 2018 added to costs and led a spate shrinkflation and price hikes in the crisp aisle.
Manufacturing arm Walkers Snack Foods Ltd posted a 9.8% decline in turnover to £230.8m in the year driven by "pricing changes for products" manufactured for the wider group.
Operating profit at the manufacturing arm decreased 26.8% to £15.2m as margins also contracted.
Sales and marketing arm Walkers Snacks Ltd saw a small 2.6% sales increase to £167m, though operating profits fell 6% to £28.5m due to rising costs.
Walkers Snacks (Distribution) Ltd reported an 8.2% decline in turnover to £98.5m driven by pricing changes for warehousing and distribution services, while operating profit plunged 73.4% to £1.2m.
On a collective basis the three companies saw revenues decline by 5.7%, while operating profits were down 19.3%.
The apparent decline in sales mirrors The Grocer's findings earlier this year that branded sales of its core Walkers range were struggling amid intense competition in the snacks sector.
Walkers sales were down £23.2m or 5.7%, according to Nielsen in the year to 26 January 2019, with the crisps giant relying on innovation in other brands to drive sales growth.
The fall in sales in its core Walkers range was mitigated by strongly rising sales of its Sensations and Max sub-brands (up 17.1% and 63% respectively), with the latter's newly launched Max Strong sharing bags a notable success.
In February, The Grocer reported the shrinking of selected Walkers multipacks in Asda and Morrisons to cut costs PepsiCo and Walkers decline to comment on the results.