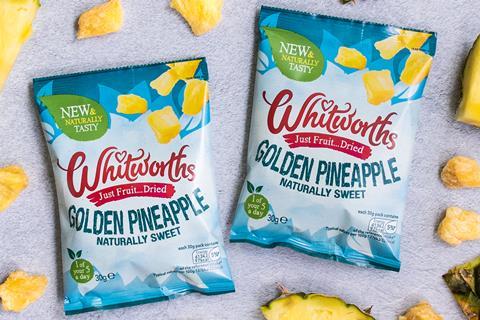 Whitworths' sales fell 17% during its first year under Turkish fruit giant Anatolia following price pressures and a "major" contract loss.
For the year to December 2018, the dried fruit supplier posted £117.8m in sales, down from the £167.1m in turnover generated in the previous 61-week period, which included two extra "key sale months".
The company changed its accounting period following its acquisition by Anatolia in May 2017.
The move "provides a platform for long-term growth" Whitworths said, by leveraging its capability with the sourcing and packing strength of Anatolia on Turkish-grown product.
On a pro-rata basis, revenues were down 17%, with the company attributing the decline to the loss of a major own-label contract as well as the "proactive decision" to exit non-strategic businesses – such as stuffing and cornflower – and focus on the core segments of dried fruit, nuts, seeds, beans and pulses.
"The business was in a difficult place so when we were sold, we agreed a major restructure," said CEO Mark Fairweather.
"Part of that restructure was deciding that we are predominantly driven by nuts and seeds […] so that's why we decided to exit the peripheral businesses and really focus on being world-class in our core business."
Furthermore, continued pressures from inflation, currency movements and labour costs squeezed Whitworths margins which were described by Fairweather as "very thin" and led to operating losses of £1.5m, an improvement to the bottom line if compared to £3.5m losses the prior year.
After closing three production halls, the company was able to reduce its cost base by 25%, driving efficiency and productivity.
However, the brand was focused on keeping its price point "relevant to the consumers", Fairweather added.
"What we are very conscious of is that trying to persuade the consumers to switch in terms of snacking is hard work," he added.
"If you make it too expensive, it becomes even harder. We want to offer that healthier option, but we have to make sure it is at the right price point to make it comparable to a standard snack."
Despite the overall decline, Whitworths claims to have seen underlying growth during the past year due to new channel distribution, promotional plans and NPD.
Back in August, the home baking specialist announced the launch of 'Gloriously Grown', a range of all-natural fruit and nut snacks, on sale exclusively at Sainsbury's as part of the retailer's Future Brands initiative from last month.
The brand is also looking to expand into the ready meal sector with the launch of a plant-based range called 'Protein by Nature', by early 2020.
Fairweather added: "Reinventing what we see as our core, bringing in new flavours that are appropriate for the consumers to make sure that we can drive that focus, has led to us seeing 13 consecutive quarters of growth for the brand."
Looking ahead, Fairweather said the business is "in a good place now to deliver a very clear focus plan that brings stability and allows us to invest".
The CEO said he would be happy for the business to achieve break-even during the current year from a pre-tax loss of £2.2m in 2018, but will continue to invest for the future.
He added: "We are in this for the long-term, we are building the foundations for the future, migrating the business from an ingredient-focused one to a healthy snacking company."