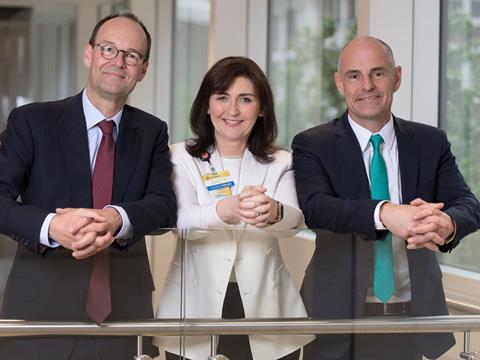 Walmart has rejected suggestions it is backing away from the UK, insisting the deal to merge Asda with Sainsbury's will "unlock long-term value" for the group.

The world's largest bricks and mortar retailer is effectively backing Asda, which it bought in 1999 for £6.7bn (then worth around $10.8bn), into Sainsbury's in a cash and shares deal valuing the Leeds-based grocer at £7.3bn ($9.9bn).

It comes after Walmart previously admitted its strategic focus is centred on its core operations in the US and growing in key developing markets such as India and China, lending weight to suggestions the Asda deal represented a retreat from the brutally competitive UK. And Lisa Byfield-Green, a senior retail analyst at LZ Retailytics, pointed out that Walmart had committed to retain its 42% shareholding for only two years. "For the next two years it can sell its stake down to a minimum shareholding of 29.9%. And after four years, there is no lock-up. It is so clearly a market exit by Walmart," she said. "This is not something that they seemed keen to highlight in the presentations on Monday."
The US-listed group also admitted it had taken a paper loss of $2bn on the deal, prompting The Times this week to argue its decision to take a loss of that level on the deal 'underscores Walmart's drive to reduce its exposure to bricks-and-mortar retail'.

However, Walmart International president and CEO Judith McKenna said its 42% stake in the merged business would "benefit Walmart in the long term".

"This is a really unique opportunity to create a strong, healthy, resilient UK business with the scale to help deliver a lower cost of living for customers," she said. At the same time, "we see this as a way of unlocking long-term value".

"We are looking to transform our business, leaning into digital. What we've realised is we can't do everything ourselves. Sometimes combining with partners, as we have with Rakuten in Japan, JD.com in China and Google Home, is a better approach, being deliberate and thoughtful about the portfolio and where we focus.

"We no longer feel the need to own a business outright in order to enjoy a benefit.

In this deal, McKenna said the group could benefit from access to the online delivery capabilities of Argos at it looks to scale up its digital offer around the globe. "We're particularly interested in what the Argos company could bring around the world, and we're interested in the way general merchandising from a global perspective could help to transform pricing for customers."

The $2bn paper loss has already been partly mitigated by a double-digit share price rise in Sainsbury's, which has swelled the theoretical market cap of the combined business to around £15bn, valuing Asda at around £8bn.

The loss also disregards the value Walmart has extracted from Asda over its near-two decades of ownership.

Asda's accounts for 2016 show it paid its parent a one-off dividend of £457m (in addition to a £230m dividend in 2010) and paid it ongoing "technical assistance" fees totalling £164.6m in 2016 and £181.3m the previous year.

Asda has also remained highly profitable during the price wars as, until recently, Asda and Walmart sought to protect margin rather than find ways to address its sliding marketshare.

Pre-tax profits hit almost £1bn as recently as its 2015 financial year and have been at £739m and above for each of the seven years up to 2016. Sainsbury's this week revealed Asda's operating profit was expected to dip to £720m in its 2017 accounts, down from £845m in 2016As part of the deal, Walmart would extract some £1.3bn of excess cash from Asda to negate the debt and pensions obligations it will retain.

Bernstein analyst Bruno Monteyne noted that Walmart stood to benefit from the combined group's technology, without having to stump up significant amounts of cash.

"Walmart seems intent on harvesting cash from Asda, today and in the future, rather than seeing this as an area to deploy more capital." "The cash will be used to fight its battles at home or elsewhere."

Despite the paper loss, Asda has grown substantially under Walmart's stewardship.

Its store estate has grown from 229 back in 1999 to 642 today, with employees rising from 78,000 to over 161,000 (peaking at 179,000 in 2012).

Sales over that time have almost trebled from £8.2bn in 1999 to £22.2bn in 2017, though margins have tightened as operating profits in 1999 were £435.6m compared with the £720m figure today.