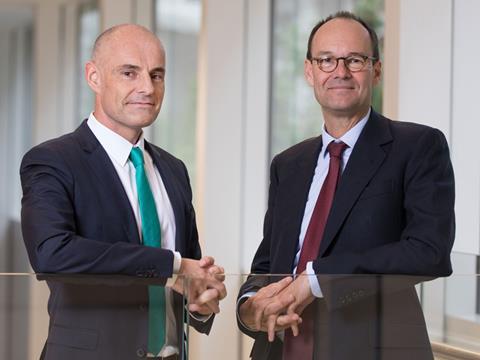 Sainsbury's boss Mike Coupe and his Asda counterpart Roger Burnley suffered a savage grilling by MPs today, as they were accused of lying about their plans to squeeze suppliers as part of their proposed merger.
The two supermarket chiefs were called to give evidence to the Environment, Food and Rural Affairs (Efra) Committee and faced a barrage of accusations about the likely impact on their supply chains. The retailers have made clear their intent to demand price cuts to achieve 10% price reductions across a raft of everyday products.
During this morning's hearing, which comes ahead of a Competition & Markets Authority probe into the deal, committee chair Neil Parish, Conservative MP for Tiverton, accused the Asda boss of talking "a load of baloney" and making up untruthful figures about the competition facing the two companies, to try to justify the deal.
MPs accused Asda and Sainsbury's, despite promises that the two will remain separate brands, of secretly hatching plans to merge the two buying operations and lining up swingeing management cuts.
They also claimed the deal would see the companies switch to buying cheaper products, with less coming from British producers, as they looked to capitalise on savings from the deal.
Suppliers 'terrified'
Parish described the merger plans as a "marriage of convenience" that would result in suppliers being forced to drop their prices because they were "terrified" of the buying power of the merged entity.
"There is no logic to the deal other than a financial fix," Parish told Burnley, as the Asda boss was accused of not telling the truth about the deal.
"You're going to inflict pain on suppliers and it's not just the Nestlés of this world who are going to pay. You say you are going to run these businesses completely separately. I'm sorry it's just unbelievable. For goodness sake don't come in here and give us a load of baloney.
"If you are going to save 10% you're going to get that from going to your supply chain. For goodness sake tell us the truth. It might be four or five months, or six months down the line, but you're going to move to one system for buying and one system with the management.
"This new system will be an Asda system where you buy more produce such as pork from Europe and less British producers. This will be the lowest common denominator and it will be the suppliers who suffer.
"Lidl and Aldi currently deliver a good price to the consumer but still pay a good price to suppliers. You are planning to do the opposite.
Burnley claimed that at a meeting of nearly 500 Asda own label suppliers yesterday there had been a mood of "cautious optimism" about the potential benefits of the deal.
But Parish said: "They are going to be terrified. They are terrified of you already! Why should you not sort your model out so it's not the supplier who pays the price?
"You don't talk about staff, you don't talk about management changes because you don't want to frighten the horses. We have been having trouble getting suppliers to talk about this because they are terrified. You have to accept the truth. It's no good telling us what is blatantly not true."
Burnley was also accused of misleading parliament over the market share that Asda and Sainsbury's would have. He has claimed this would be 25% once non-traditional supermarkets were taken into account.
Parish said the figure was 31% and that Burnley's estimate was "plainly not true".
Unbelievable
MPs also poured scorn on claims that Asda and Sainsbury's had not shared details on the prices they paid to suppliers ahead of the merger, instead claiming that the 10% figure had been arrived at by independent consultants.
"I think that is unbelievable," said Parish. "The more I hear the more unbelievable it is.
"Come on, get real," he told Burnley. "We're not children. You can't just come in here and give us a little nursery rhyme. Let's have some sense out of you if not the truth."
Looking visibly taken aback at the strength of today's grilling, Burnley told MPs the merger was needed to allow Asda and Sainsbury's to compete in a retail landscape that was "changing out of sight".
Both he and Coupe stressed that it would be large multinational suppliers, not smaller suppliers, who would feel the brunt of the demand for more competitive prices.
Burnley, who said a third of Asda's business came from just 24 suppliers, said: "This is about step-changing our ability to offer our customers what they want in the most competitive marketplace we have ever seen.
"We understand the fears and we know we cannot be successful without a secure supplier base. It is genuinely about a partnership."
Coupe said the top 50 Sainsbury's suppliers accounted for 55% of its business, while the smallest 800 accounted for less than 1% between them. The merger was about allowing the companies to compete with the discounters, he said, adding that it was unfair of MPs to compare the two business models.
"Companies like Aldi and Lidl are many times the size of Sainsbury's," he said, "and this is our competition in the future."
"I'd be the first to agree we need to be more competitive but if one day you want to wake up in a world that's 100% Aldi there would be around 2,000 products."
Coupe also claimed that suppliers had been excited at the opportunities posed by the merger.
"I've had a lot of suppliers talk to me about the benefits," he said.
He also hit back at claims from MPs that it would be small, UK-based suppliers that would be most hit by the merger.
"You talked about Weetabix," he said. "Weetabix is owned by an American corporation. Weetabix makes 20p in pound profit. It's a reasonable question to ask Weetabix to offer the same price to Asda and Sainsbury's so we can pass on the benefits to our customers."
This story is being updated