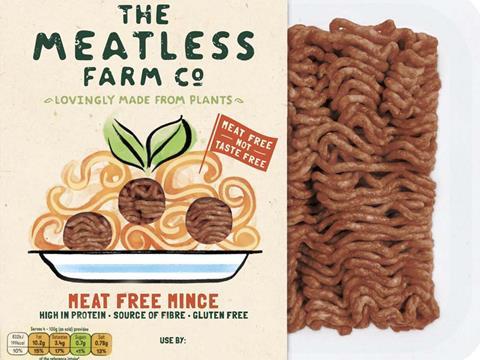 Sainsbury's has boosted its vegan and vegetarian range by more than a third (35%) this month, in response to growing customer demand.

The supermarket launched 22 new vegan and vegetarian SKUs in October. They include Vivera's veggie quarter pounder (rsp: £3.50/226g), which is made with soya and wheat proteins, sunflower oil, olive oil, red beetroot powder, potato and tomato powder, and The Meatless Farm Co's soy-based mince (rsp: £3/400g) and burger patties (rsp: £2.50/227g).

The Fry Family Food Co added chilled meat alternatives too, including artisan southern-style tenders; chargrilled beef-style strips; spicy three bean pasty; and artisan chickpea and roasted butternut balls, closely followed by frozen items going on sale in November.
Sainsbury's said it had seen an 82% increase in its customers searching for vegan products online, and its meat alternative product sales were growing 20% weekly. As a result, the supermarket is striving to make meat-free meals easier to enjoy for its customers.

Sainsbury's said it was offering "a bigger and better selection of on-the-go snacks and meat-free ingredients" in stores and online.

"Whether it's classic British, luxurious Italian, must-have Middle Eastern, or flavoursome Thai, our new range of meat-free dishes and ingredients are sure to be popular with everyone - flexitarians, vegans and meat-eaters," said Sainsbury's plant-based buyer James Hamilton. "We're dedicated to providing our customers a breadth of choice, from those who like to grab some delicious on-the-go dishes to those chefs that prefer to cook up a creation in the kitchen." It comes after Waitrose added 30 new own-label vegan and vegetarian products to its meat-free offering earlier this month, and Iceland installed dedicated meat-free freezers in more than 900 branches following the success of its No Bull burger.