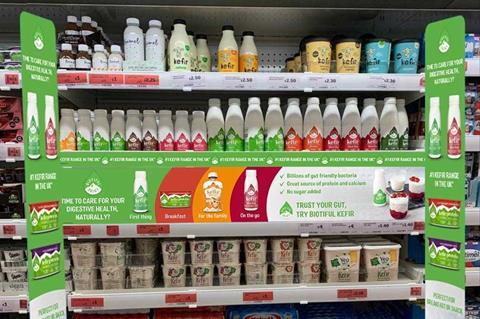 Sainsbury's is to unveil a branded 'gut health hotspot' in dairy aisles at more than 100 stores nationwide.
The new permanent fixture will initially appear at 123 Sainsbury's sites from today (12 February), creating a specialised shelf area for gut-focused dairy products. Kefir brand Biotiful Dairy will sponsor the fixture for its first three months, before the branding is taken over by a different supplier.
The fermented dairy specialists have provided the first set of branding for the unit, which comprises of a metre-long shelf-strip carrying digestive health information as well as aisle fins featuring Biotiful's range of products.
Biotiful said it hoped the move would disrupt current shopper behaviour, which tends to see less time spent in dairy aisles due to the cold environment and "habitual purchasing".
"We firmly believe this will capture the attention of a new wave of kefir shoppers – encouraging them to upgrade their dairy choices to something more natural, healthier and tastier," said Biotiful Dairy founder Natasha Bowes.
"This is a very impressive initiative from Sainsbury's to help recruit more shoppers into natural gut health and kefir products. And, of course, we are delighted that Biotiful was chosen to be the first brand to feature on this market-leading activity."
Sainsbury's confirmed the move but has yet to respond to The Grocer's request for comment.
It follows a series of recent aisle showcases by retailers designed to respond to latest consumer trends.
Last year, Tesco launched a vegan foods fixture in its meat aisles, while in 2017 Sainsbury's added a specialised dairy-free zone in 300 stores.