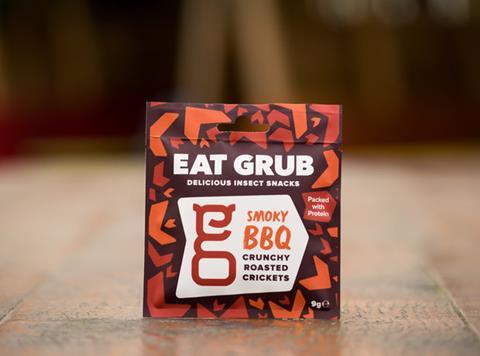 Sainsbury's has become the first UK supermarket to stock edible insect products, introducing crickets into 250 stores.

The Smoky BBQ Crunchy Roasted Crickets are designed to have a rich smoky flavour, and can be eaten as a snack or used to garnish dishes including salads, noodles and tacos, according to Sainsbury's.

The supermarket said it is selling the crickets (rsp: £1.50/12g bag) from sustainable food brand Eat Grub to continue its endeavour to provide its customers with "new and exciting" products.

The launch comes as a study by Sainsbury's and Eat Grub found one in five shoppers said they can see the advantages of eating edible insects, particularly as an alternative protein source (25%) as well as for the health and nutritional benefits (15%).
Attitudes towards edible insects are changing too, with almost 10% of consumers having already tried edible insects, and 57% saying they enjoyed them. Over four in 10 (42%) said they would be willing to try insects in the future, while one in eight said they have yet to try edible insects because they haven't had the chance or don't know where to buy them.

"Insect snacks should no longer be seen as a gimmick or something for a dare, and it's clear that consumers are increasingly keen to explore this new sustainable protein source," said Sainsbury's head of future brands Rachel Eyre. "We're always looking to provide our customers with new and exciting products, and with the growing interest in edible insects we're excited to be the first UK supermarket to make these products easily accessible for shoppers across the country."

Eat Grub co-founder Shami Radia added: "Insects are currently eaten by two billion people worldwide. We're on a mission to show the west that as well as having very strong sustainability and environmental credentials, they are also seriously tasty and shouldn't be overlooked as a great snack or recipe ingredient. Insects can produce the same amount of protein for a fraction of the land, water and feed used to rear traditional livestock. What's more, insects are estimated to release 80% less methane than cows."
Eat Grub's cricket products are also available on Morrisons.co.uk as online delivery-only items.