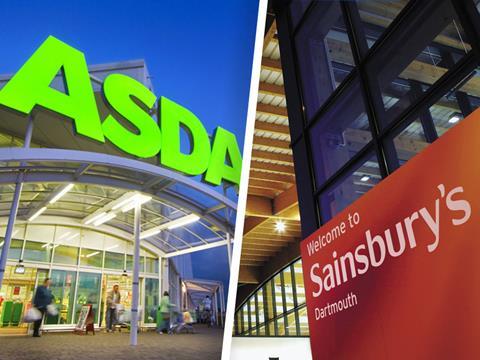 Sainsbury's and Asda have abandoned their plans for a merger after a crushing final report by the competition authorities today concluded the plans would lead to rising prices and reduced quality for shoppers across the UK.
The Competition & Markets Authority's final report found the merger would hike prices in stores, online and at many petrol stations should two of the biggest supermarkets be allowed to come together.
Afterwards Sainsbury's and Asda said they had mutually agreed to terminate the merger, with Sainsbury's boss Mike Coupe accusing the CMA of "taking £1 billion out of customers' pockets".
The CMA's report did include some row backs from its provisional findings, published in February, including reducing the number of areas where there was a competition concern from 629 to 537.
However, its concerns of a serious lessening of competition on a national basis in supply of in-store groceries from supermarkets and convenience stores remained "substantially unchanged", as did its fears that the "coordinated effects" of the merger would push up online delivery prices.
"It's our responsibility to protect the millions of people who shop at Sainsbury's and Asda every week," said Stuart McIntosh, chair of the inquiry group.
"Following our in-depth investigation, we have found this deal would lead to increased prices, reduced quality and choice of products, or a poorer shopping experience for all of their UK shoppers.
"We have concluded that there is no effective way of addressing our concerns, other than to block the merger."
The CMA's final report found that the merger would not just hit shoppers in the pocket but also lessen the quality of services, including leading to fewer delivery options, when shopping online. Motorists would face higher bills at over 125 locations where Sainsbury's and Asda petrol stations are located close together, it concluded.
The CMA said it had taken into account the rise of discounters Lidl and Aldi and how new competitors online and in traditional retail had changed the market.
But this was not enough for a change of heart and neither was the pledge by Asda and Sainsbury's for £1bn of sweeping price cuts.
Reacting to today's decision Sainsbury's, Walmart and Asda said they had agreed to mutually "terminate the transaction", as the curtain fell on what would have been one of the biggest mergers in UK retail history
"The specific reason for wanting to merge was to lower prices for customer," said Coupe.
"The CMA's conclusion that we would increase prices post-merger ignores the dynamic and highly competitive nature of the UK grocery market. The CMA is today effectively taking £1 billion out of customers' pockets.
"Sainsbury's is a great business and I am confident in our strategy. We are focused on offering our customers great quality, value and service and making shopping with us as convenient."
"We were right to explore the potential merger with Sainsbury's, which would have delivered great benefits for customers and supported the long term, sustainable success of our business," said Asda CEO Roger Burnley.
"We're disappointed with their findings but will continue to find ways to put money back into customer's pockets and deliver great quality and service in an ever changing and demanding market.
"I have always been hugely aware that the last year has been an unsettling time for all of our colleagues and am immensely grateful for their commitment and dedication during that time. Our focus is now on the most important job we all have – delivering for our customers."
Judith McKenna, CEO of Walmart International, added: "We have been clear from the beginning of the proposed merger about two things. Firstly, that retail is rapidly changing and standing still is not an option, and secondly that we will always ensure our international markets are strong local businesses powered by Walmart.
The UK remains one of the most competitive retail markets in the world and Asda's seven consecutive quarters of year-on-year growth show it is a strong business with a clear strategy and focused leadership.
"It was against that backdrop that we decided to explore the proposed merger with Sainsbury's – an opportunity which would have further strengthened the Asda business and delivered real benefits for UK customers.
"While we're disappointed by the CMA's final report and conclusions, our focus now is continuing to position Asda as a strong UK retailer delivering for customers. Walmart will ensure Asda has the resources it needs to achieve that.
"I would like to personally thank and recognize Roger and the entire Asda team for their incredible focus and approach during the merger process. They have had the customer at their heart at every step, and I know they will continue to do so."