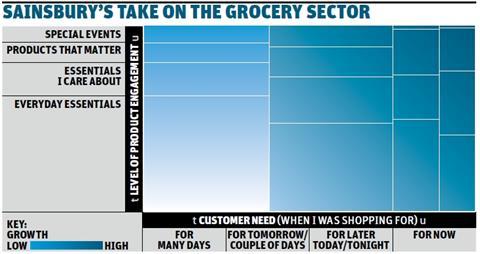 This is the chart that underpins Sainsbury's new strategy - an analysis of how much customers care about products versus when they need those goods.

Speaking at the release of the retailer's strategic review this week, CEO Mike Coupe unveiled the chart to show how he had plotted the level of product engagement against customer need, and claimed it had "largely driven our way of thinking" in terms of where to make its £150m price investment and where to invest in quality improvements.

The chart plots customer need along the horizontal axis based on 'for many days', 'for tomorrow/a couple of days', 'for later today/tonight' and 'for now'. The vertical axis plots engagement on 'everyday essentials', 'essentials that I care about', 'products that matter' and 'special events'.

Products that fell largely on the left of the chart were currently experiencing low growth, while those on the right were experiencing higher growth, Coupe said.

Though Coupe would not reveal specific categories where prices would be lowered, he said: "Commodities in the bottom left of the chart is where we want to invest in price. Top right is where we will invest in quality. Top left is about brands. This is where we have been simplifying prices and maintaining our competitive edge."

He gave the example of Sainsbury's own label Little Ones nappies, which would fall in the bottom left of the chart. Coupe said the price had been reduced 7% from £4.85 to £4.50 making them the cheapest per nappy in the market at 11.25p, against 12.47p at Aldi and 16.60p at Asda.

Sainsbury's review also confirmed the retailer would be slowing its store opening programme over the next few years. However, Coupe said its superstores covered "all the sectors" in the chart and that the death of the superstore had been "greatly exaggerated".

He added that online currently sat in the bottom left of the chart but "as we move further into click & collect and delivery passes, it will start moving further to the right".