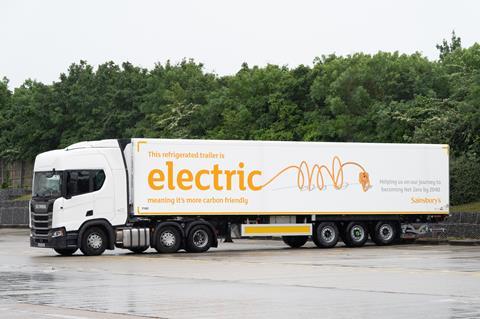 Sainsbury's has introduced fully electric refrigerated trailers to its delivery fleet, in efforts to reduce its environmental footprint.
The retailer said the five new electric fridges don't release carbon emissions or particulate matter such as dirt and smoke, and had low noise emissions.
The trailers' new technology also converts kinetic energy into electricity to feed the battery and extend its life, therefore optimising energy efficiency while keeping the fridges at adequate temperatures.
Sainsbury's, which was named principal supermarket partner for this year's COP26, introduced the carbon-friendly electric lorries to its fleet following a successful trial earlier this year.
"We will continue to introduce fully electric refrigerated trailers to the delivery fleet over the next 20 years, based on Sainsbury's and Argos's energy infrastructure, helping us to plan for a better future," said Patrick Dunne, Sainsbury's director of property.
"As we look to the future we will continue to invest in testing and trialling to make our fleet more efficient and greener, creating energy at the same time."
The move is part of the supermarket's larger plans to become net zero across its own operations by 2040.
Read more: Sainsbury's rolls out flexible plastic recycling scheme to stores nationwide
The company committed to investing £1bn into the business to reduce energy costs, fully eliminate carbon emissions, and decrease its overall environmental impact.
Sainsbury's has now become the first UK retailer to introduce fully electric refrigerated trailers to its lorries.
"It's brilliant to see an iconic British business embrace this pioneering technology as we all strive towards a zero-emission future," said transport minister Rachel Maclean.
"We want the UK at the forefront of the electric revolution."